Favorite Campfire Snack

Canada
10 responses


• United States
12 Feb 07
Oh I agree! It's so satisfying to eat fish that fresh. For some reason, it doesn't need a lot of seasoning that way. Mmm.

• United States
30 Jan 07
We always end the day roasting marshmallows and making s'mores! :)

• Canada
30 Jan 07
We like spider dogs. Check out my homepage there are a few recipes.

• United States
10 Feb 07
If I'm car camping, my favorite thing to do is put a bunch of fresh chopped up vegetables in a tin foil pouch with salt and pepper, and maybe some garlic. Then, I just stick it in the coals of the fire for about 10 mintues. It's great and a satisfying meal or side dish.

• United States
8 May 07
Hey now that sounds really good, easy and satisfying! You use all kinds of veggies right? Asparagus, yellow squash, tomatoes, garlic, zucchini, maybe even some carrots or mushrooms, huh?For a final dessert when we go camping, I bring canned fruit mix (blueberry, strawberry, raspberry or whatever you like) and a few loaves of bread with a few sticks of butter. You have to buy a pie-iron to place into the coals after placing the bread, filling and butter into the iron. But 8 minutes and these pies are great with a smoky flavor you just can't get at a restaurant! Happy Camping . . . sharing the light, Erica aka 'enlightenedpsych2' Welcome to my world http://www.enlightenment-psych.net

• United States
12 Feb 07
Mine was always roasting marshmallows. We'd all find some sticks and stick a marshmallow and burn it a little on the outside with the fire and eat it. That was the best!

• Malinta, Ohio
12 Feb 07
Strawberry jelly and bread in a pie iron. Yummy!




• United States
24 Feb 07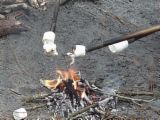 Well if it is after dinner and it is time to sit around the fire and talk or sing or whatever I like to toast marshmellows. mmmm yummy. To me it isn't a camping trip if you aren't all sticky from roasting marshmellows.

• United States
23 Feb 07
My hubby doesn't like marshmallows but my daughter and I do,burnt as well. When we moved into our new house and started a fire in our new f/p, my daughter went to find the marshmallows and a stick for roasting. lol Now I keep the camp forks beside the f/p during the cold season.