I'm Lonely =[

Philippines
3 responses

• United States
1 Feb 07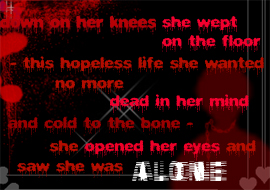 hello reggiegan!. whats up?. anyway please do not be lonely anymore.. although you are alone physically in your room or someplace else you will not be alone because your friends and your parents are thinking about you.. also in cyberspace you are not alone especially here in mylot and other forums because people are constantly logging in.. you can message the people around here, that means you can message me too, and talk about the things that are bothering you.. if you feel lonely or sad and you are not happy online then i think that you might call some friends and hang out with them so that you may decrease your feelings of loneliness well.. if that doesnt work then why dont you find a girlfriend?. LOLS!. im sure there's someone in your school or in your community that you like.. why dont you find out if they like you too?. and then youd never be lonely because someone you love will be there with you.. well!. goodluck reggie!.

• Philippines
1 Feb 07
hello thx 4 the advice =]...i'll try to do what u said to me...well wish me luck ah =]

• Philippines
31 Jan 07
how i'm gonna do that?? can u give me some advice on how i'm going to find a date & how to invite her

• Philippines
30 Jan 07
cheer up reggiegan1! welcome to myLot! nobody is alone here in myLot! everyone of us need someone to get this site going so cheer up and start posting as you go along posting you will meet friends with same interest with you. Earning at the same time learning this site can ever offer to us. Happy posting!

• Philippines
31 Jan 07
thx to ur reply.. i hope we become a good friends....can u invite me to add to ur list of friends thx..=]