miss the shows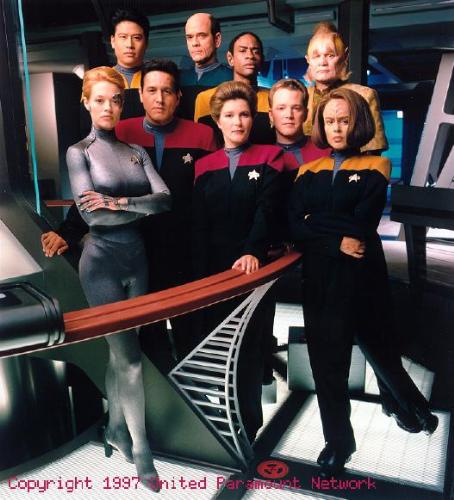 7 responses


•
30 Jan 07
i do like next generation it was great when they made the films aswell



•
24 Feb 07
i cant watch kirk now ,i prefer voyager thanx for your response

• United States
22 Feb 07
Well - I was merely a toddler when the original series aired, I think on NBC. For years throughout the 1970's when I was a kid, I used to watch the series repeats every weekday on WPIX, as well as The Animated Series (which I haven't seen since then) when it was on Satuday mornings. When The Next Generation came out in 1987, I enjoyed that series for 7 years, as well as Deep Space Nine when they started that, although I did find it sort of ... bland. That was, until they brought back Kang, Kor & koloth. When The Next Generation was finished, the network continued to show repeats. I watched them, being that it was what they were showing right before Deep Space Nine. I enjoyed Voyager also, but I would have liked to have seen a bit more than just Voyager arriving in the Alpha Quadrant (like maybe some of the reunions between families & friends). I also enjoyed the movies that they put out, & yeah including Nemesis. When Enterprise came out, I watched, but it didn't grab my attention like the others did. Anyway, the only good Star Trek right now were RPG's that were going on some of the forums I was in, & the new online friends I had made.

•
22 Feb 07
love your name krazyklingon i remember the origanal series vagley as i was young when it was on,never seen the Animated series,would like to,ive missed load os the episodes for deep sace nine,going to have to download them,i would have liked to seen more of voyager home coming aswell.seeing them going back to there familys that would have been a great episode thanx for your response

• Australia
6 Feb 07
HONEYANGEL, you sound so dissapointed, at the moment in austrailia foxtell has sci fi channel 24 hrs a day which includes all the star trek series including voyager ,deep space nine,enterprise, the next gen also iam sure they are reapeats but who can get enough.nice to talk to you pomery

• India
31 Jan 07
I miss it too. I liked the last show, Enterprise, and am really surprised it wasn't allowed to do its manditory 7 year run. Can't believe Paramount is gonna let the trek franchise die. Most likely they're giving it a bit of a rest, maybe gathering interest like coca cola changing the formula to get everyone to freak out about it!

•
6 Feb 07
i never really watched that wached about 2 serce(sp) and stopped so i never saw really much,if comes on again im play catch up

• Ireland
3 Mar 07
Yes, I miss them so I got them on dvd. I have been introducing my kids to them one series and one movie at a time. They are now dyed in the wool trekkies.

•
3 Mar 07
im saving them up aswell,trying to get them all thanx for your response