What are the functions of misic?

China
January 30, 2007 6:53pm CST
we know that music benefits people a lot. different people have different tasts of music. For instance, young people like pop music, fanatical people like rock,black people like rap and hip-hop, and senior citizens like classical music. Music plays a very important role in our life. It has great influence on people's body, mind and soul. so waht is the influence that music brings on you. I mean, what kind of music do you like best, and why do you and when do you listen to music?
2 responses

•
31 Jan 07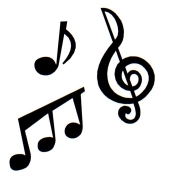 I love a variety of music, some of the groups or People I love to listen to are, Nat King Cole, ELO, Shania Twain, White Zombie, Korn and Aretha Franklin. I should add, it's a HUGE variety. I like to listen during the day when I am home alone and cleaning. It's soothing at times when I need it, or it can be a stress release during other times. Music is an everyday must for me.

• China
6 Feb 07
I did the same things as you do. listening to some light music while you are working,cleaning your room. surfing the internet.it is such a relaxing environment.Even music is not a must for me everyday, but I like it so much.

• Australia
31 Jan 07
When you're old, the greatest thing about music are the memories. I have a huge range of music covering a lot of genres, and many songs remind me of special people and special times long gone. Music keeps these memories fresh, and to an extent, me young.

• China
6 Feb 07
yeah, sweet music, sweet memory. those things happened yasterday is just like a dream.at this time we would say life is too short, music will be forever.