do you like to smile???

United States
6 responses


• United States
1 Feb 07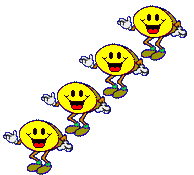 1) Smile shows friendship 2) Smile make new friends 3) Smile makes other people's day brighter 4) Smile improves your day 5) Smile looks better than a frown 6) Smile Puts others at ease 7) Smile always enjoyable to give and receive 8) Smile leaves favorable impressions 9) Smile makes you look happy, confident, and self-assured 10) Smile could be the start of a lifetime relationship!

• United States
1 Feb 07
It costs nothing to create a smile. It enriches those who receive without impoverishing those who give It happens in a flash and the memory of it sometimes last for ever It cannot be begged, borrowed or stolen, but is of no earthly good to anyone until it's given away So if in your hurry you run across someone too weary to smile, leave one of yours No one needs a smile as much as the one who has none to give Smiles are such an important part of communication We see them far more clearly than any other expression. We can pick up a smile at 300 feet, the length of a football field.

• Romania
3 Feb 07
all the time. even when i'm sad.... it makes me feel better and peoples around you too. it even makes you look bettet

• United States
1 Feb 07
Yes im a smiler. I am a friendly person. Besides smiles are contagious. usually when i smile someone smiles back.