I'm not getting any tonight :(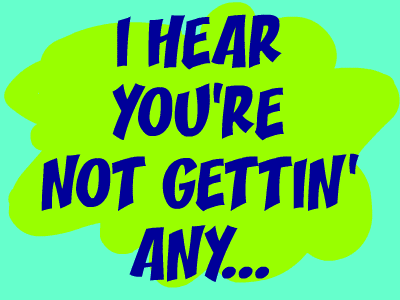 Egypt
February 1, 2007 4:18pm CST
Yah all guys here know how it feels when you get your hope .. up .. and you don't get the pleasure you were hopping for.. I know thousands of discussions been started on this topic but .. Yes I'm not getting any responses to my latest discussions.. lol how do you feel when you get your hope up and you end up with not getting any ..
7 responses

• Canada
3 Feb 07
I suggest that you comment onto your responses you've got from your own started discussion. Because when you someone update your discussion, it says like 2 seconds ago, your discussion, will go to the recent discussions, and people who might be searching for recent one will be able to see your discussion and respond. I mean you can get a lot of exposure that is.

•
1 Feb 07
It can be frustrating, but give it time. Sometimes mine set for a week with nothing, then bam they take off. I don't get it, I just go with it. :-)

• United States
1 Feb 07
It happens to wvery one at some point I guess. Don't give up your hope. May be your posting time is different than your other post you were gtting response. Sometime posting time of a discussion cause and affect.

• Egypt
1 Feb 07
Yes but I was never able to figure this one out .. I posted at the same time of my best discussion (the only one that received 100+ responses) and ended up with 2 responses .. maybe it's just about luck or coincidences .. this discussion is doing better anyway, thanks for stopping by :)

• Canada
1 Feb 07
Haha, I sometimes feel the same way, I mean I've only been here for a while but for every discussion I make I really put my mind into it and it takes a while for me to make. I dont get the responses that i was hoping for because I was expecting that a lot of people could relate. But when people don't respond it makes me feel awkward as if I shouldn't have started the topic in the first place.


• Philippines
2 Feb 07
Keep your spirit up, They will come. Perhaps your friends was not able to see you have started some new discussions or were too engrossed with some other discussions of their own interest. Patience counts, but if you really have not received any response yet, make other discussions which you think your friends will respond too. look at what they are discussing, at least you will have a better idea of what sort of topic they will mostly respond to. Create a new topic with their interest on mind. There are times that we are so exited to express ourselves in this discussions that we just hit our key boards with those emotions and forget we are in front of a whole wide audience. At any rate some catches our emotions and respond to them.

• United States
2 Feb 07
Well I am not a guy but women can feel that way too. I get plenty of offers but I am picky but I have met somebody and we are taking things slow so I am being patient hoping it will be the worth the wait.