Care for the elderly

Philippines
10 responses

• Philippines
2 Feb 07
I do believe that if we care for the elderly, we will be blessed. I am an officer of the Alpha Omega Seniars Intl Foundation but we have no funds available to make it operational. I hope that in due time we could have money to be able to accomplish our projects so that many people would be benefited.

• Philippines
2 Feb 07
When God was leading the Israelites out of the land of Egypt, the old people were left behind as obviously they couldn't walk fast. The Amalekites came and killed them. God was so furious that He commanded the Israelites to kill the Amalekites. God loves old people and children as well especially the orphans. And so in the New Testament, Iakobos or James 1;27 states: "Clean and undefiled religion in the presence of God and Father is this: to visit orphans and widows in the tribulation of them, to keep himself unspotted from the world." God will really bless people who attend to the elderly. I am now a servant of God and pursuant to the aforequoted verse, we registered the Alpha Omega Seniars Intl Foundation, Inc. for senior citizens, widows, orphans, disabled, poor intellectuals, etc. We hope to be able to help the incapable and we hope that the projects would be accomplished to be able to help to the utmost.

• India
2 Feb 07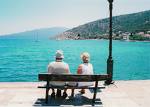 I respect the old.May because of the fear that one day we are going t be like them or out of pity for their loneliness.Whenever I get a chance I sit down and talk to them wwhich makes them very happy.

• Philippines
15 Feb 07
I appreciate you responses. Thank you very much and I have rated you all with the positive rating.

• Philippines
22 Feb 07
We hope to be able to help the old people especially the widows as it is commanded in the Holy Bible. But it's really difficult because helping effectively involves some amount of money. We could just wish and pray that we would be able someday to help the elderly.

• Laos
3 Feb 07
In Laos, they families help each other, we don't have the home for the elderly to stay. So the elderly's families will take after them. If they don't have children, they can stay in the temple as a layman or laywoman. We don't have the problem to help with the elderly. I think the young should think more about the old because they used to feed us, now they can't we should do a return. A mother can feed ten children why not one of the children do return to their mother.

• Netherlands
2 Feb 07
I think its not just even helping the elderly that you will be blessed. Its the goodness of your heart why you are blessed, to care to anyone.For me,i can help them by at least making them happy, smile and show that they are really care for, and being patient by their moods and respect more to them, because for me, they are very special too like our parents.

• Hyderabad, India
2 Feb 07
Despite state complaints about the heavy cost burden that long-term care for the elderly places on Medicaid the current method of long-term care financing

• Philippines
4 Mar 07
As a student nurse, I get to mingle with the elderly constantly. Whenever I am assigned to a patient, I usually rejoice when I get an elderly patient because elderly people (in my experience) are usually so accomodating and appreciative. In some communities, I get depressed when I see an elderly client living alone in a house. Obviously they were already abandoned by their ungrateful children. I also get saddened when I see elderly clients going to the health center alone. Even though our parents have been bad parents, it is never a reason to abandon them in their last years. We should all have concern for our elderly and we should treat them right. Elderly abuse is getting quite rampant now in the Philippines and I think it has got something to do with the moral degredation going on among us.

• Philippines
24 Feb 07
We need to care for older people, specially our parents because we us young ones are strong enough to take care of them. Taking care of there wounds if them have, bathing them if they cant do it, or if they can do the simple things for themselves, all we can do is to respect them and understand them because elders are emotional and needs attention..

•
15 Feb 07
Everyone is destined to be old except those who die early. So I take it seriously to be kind and nice to the elderly. I also have a heart for them. I hate to see them on their own especially when getting on the bus and they're carrying a bag or something. My heart bleeds for them when I see them in the home for the aged just because their ingrate children don't have time to take care of them. It's just like predicting what kind of life they--the ingrate children--would have when they get to the same situation as their aging parents. Doh!