Who is the sexist person alive?! (besides your partner lol)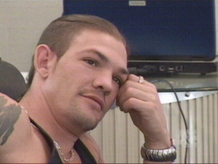 Canada
February 2, 2007 10:49pm CST
I think this guy is SO hot, leland chapman. He is from the show dog the bounty hunter. I used to watch this show so often, everytime it was on. Just so i could watch leland*drools*
4 responses

• United States
3 Feb 07
Hands down, no question, Johnny Depp. He crosses all the age lines. Women young and old alike swoon for the Johnny! Everyone I guess is allowed their own opinion...but I know deep in my heart there is nobody prettier, sexier, hotter, gorgeous, or downright breath taking then my man Johnny! I will meet him someday and confess my undying love and affection! I know I'm insane...no need to tell me!

• United States
3 Feb 07
Thats a good one of his! I'm also a Hunter Thompson fan, so for him to play that role made my day! While I like his newer movies I'm still a big fan of his older ones. I think my all time favorite Depp movie is Benny & June! he is absolutlely yummy!

• United States
3 Feb 07
I have a couple of them Nicholas Cage from Conair and Steven Siegal from Fire Down Below

• United States
3 Feb 07
I dont think either of them are very "hot". Nicholos cage is an awesome actor, but I agree you that Siegal makes cheesy movies. I forgot to add that while I think Brad Pitt is good looking...in Legends of the Fall he is absolutely edible! Probably too many to list...


• United States
3 Feb 07
Angelina Jolie, definately. She is sexy inside and out. As far as men go..Orlando Bloom. I could just fall into his eyes....