Super sized baby born in mexico... Have you seen this???

United States
February 3, 2007 9:19am CST
I was just looking around online and seen this advertised and wow. This is a big baby! lol here is what it says and I also attached the pic of the baby laying next to a baby that I guess you would say is more of an average size.. Dubbed "Super Tonio", he startled staff at the Jesus Kumate Rodriguez hospital in Cancun, Mexico, not to mention his mother, by arriving via caesarean section on Monday weighing a whopping 6.6kg (14lb 8oz), roughly twice the average weight for a newborn baby.
6 responses


• United States
3 Feb 07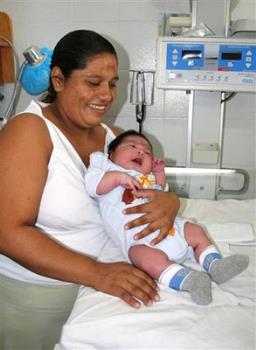 My first child was 9 lbs 4 oz. and I remember that being hard for me. I cant even imagine how she could carry a baby that size. my sister had a ten pound baby (natural, not c-section) and I thought that was amazing lol.. I bet that lady feels MUCH lighter on her feet! lol


• Lampe, Missouri
3 Feb 07
caesarean section would be the way i would go if i was to have a baby that big. my gosh that is huge!

• United States
3 Feb 07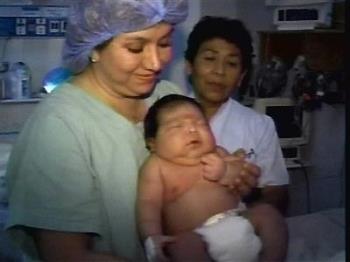 LOL.. yep that is huge.. yeah it says she did have a c-section

• United States
4 Feb 07
I do not see a pic but i can imagine what it must have felt like

• United States
17 Feb 07
wow that is some baby and I thought a 10 pounder was big! we have a few of those in our family but this one takes the cake. baby be wearing size 6/9months and only a few days old. Wonder what made the baby grow to be so big?