Anybody like Kubrick's movie?

Hong Kong
February 5, 2007 2:16am CST
I like Clockwork Orange, Full metal Jacket and 2001. Anyway, I like the style of Kubrick and I think it is pretty cool. I've heard that his last movie was A.I. but he couldn't finished it. There are also rumour stating that his death was because of the movie Eyes wide shut where his disclosed a secret society. But anyway, no doubt he had made some good movies.
5 responses

• France
5 Feb 07
I don't know all Kubrick's movies but I adore Clocwork Orange and Full metal jacket. It is rather hard and it is difficult not to be upset by his movies

• Hong Kong
6 Feb 07
Well, I think Clockwork Orange is so powerful that you really have to see it yourself to get the feeling of it.

• United States
10 Mar 08
same here! I was shocked after watching the film but i still liked it because it made me feel different emotions while watching it.

• Belgium
6 Feb 07
A space oddysey, spartacus, full metal jacket. It all are classics, he's one of the biggest, maybe not to say the biggest director ever. I went to his museum last year, fantastic things he made. You could see the real costums and things, fantastic!

• India
20 Aug 12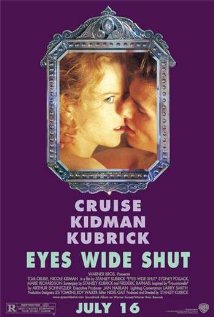 Stanley Kubrick as a director I think I have only seen the movie Eyes Wide Shut and it was a good one to watch. Eyes Wide Shut is not a great movie but can be watched once. I don't remember watching any other movie directed and produced by Stanley Kubrick ..

• Belgium
7 Feb 07
I also really like the Kubrick movies especially 2001, some think he takes to long but I really love him, I just like the atmosphere and the film techniques. Clockwork orange is my other favourite movie from his hand. I also like the other but those Two I like the most.

• United States
6 Feb 07
The only one I've seen is 2001. I was sorely disappointed. It would've been a good movie if they'd chopped the first 20 minutes and the last 20 minutes off the movie. The part with Hal was great. The space baby wasn't.