If you have high Blood pressure, How soon do you need to see your doctor?

United States
February 5, 2007 3:32am CST
I have been tested at a couple of places and my blood pressure was high. this was last summer. I think it was the stress of the move, because it was completely chaotic, and extremely stressful. The situation, just wasn't good. However, can'tthis simply be controlled by diet and exercise, or is the doc goingto putme on a bunch of pills? and also, is poofiness in the legs normal with this disease?
7 responses

• India
8 Feb 07
Yes, I think it is always better to see a doctor as Blood pressure got serious affects nowadays, so we have to be careful that it is maintained normal, my doctor told me that I hav eto take pills all my life I also get swelling on my legs that is fluid retention some pills remove the excess of water from your body, but they are more stronger and make you feel more exhausted.

• Australia
8 Feb 07
I was diognosed with high blood pressure a couple of years ago, I went to the doctors after I told a friend I was getting nose bleeds and had palpatations, she had a home BP momitor and tested me and said it was pretty high, when I went to the doctors she actually got a fight at how hight mu BP was and got me to lay down, she said I was so close to having a stoke, she put me tablets that took ages to bring it down, one of tablets she is not happy about me being on it for too long and has said if my ankels swell I am to come straight back to het and she will have find something else, but that is the tablet that would be the cause.... be very careful as she told me if I hadn't have had those nose bleeds I could very well have had a stroke.

• United States
8 Feb 07
well, It is weird you see, because I am assuming I have high blood pressure because my father had it. I naturally have my right ankle swell, because of the surgery I had when I broke it in 2001. I have a tendency to stay up for long periods of time which cause my ankle to swell, so I was wondering are there any other signs? I dunno. like, being thirsty or something? (I'm not, just fishing for clues!)I think it is normal for your blood pressure to go up when you are extremely stressed out, and my move last year pretty much did me in. I am also wondering if my lack of exercise might be a factor at all, because if that's the case, I'll just start walking like mad!

• Australia
5 Feb 07
I have high blood pressure and take pills for it, for some people it doesn't matter what they eat or how much they exercise its something they just have, the swelling in your legs is caused by fluid and its a common symptom of high blood pressure, you should definatly see your doctor asap to work out the best course of action for you, as if you don't you run the risk of stokes etc

• India
24 Oct 10
Well, sometimes its unavoidable that we feel depressed for the day..but for the health its not a good side,i believe in meditation, its will balance all disorders of body and mind.

• Philippines
12 May 10
if you have high blodd pressure it is advisable that you monitor your blood pressure regularly and see your doctor so you would know what emdications to take and also maintain a healthy lifestyle. eat a healthy diet, low in fat, salt and cholesterol.. high in potassium, calcium, magnesium.. exercise regularly and avoid too much stress.

• India
12 Mar 07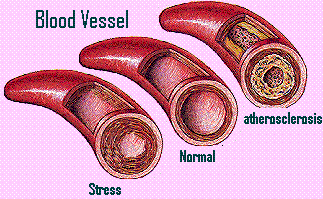 Blood pressure is the force in the arteries when the heart beats (systolic pressure) and when the heart is at rest (diastolic pressure). It's measured in millimeters of mercury (mm Hg). High blood pressure (or hypertension) is defined in an adult as a blood pressure greater than or equal to 140 mm Hg systolic pressure or greater than or equal to 90 mm Hg diastolic pressure. High blood pressure directly increases the risk of coronary heart disease (which leads to heart attack) and stroke.

• United States
24 Feb 07
You should see your doctor as soon as possible, hight blood pressure can be dangerous. Perhaps you can control it with changes in lifestyle but you need to see your doctor because you are retaining water that is the puffiness in your legs. I take one pill a day and I am much better. One pill and a change of eating and exercising helps me. Take care of yourself, high blood pressure leads to other problems if not treated.