What is the ultimate travel destination for you?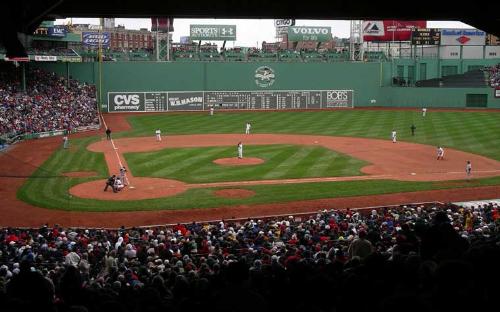 February 5, 2007 4:39am CST
I realy think mine would be Boston, MA because of my love of the Red Sox, and I have never been there and I want to watch a live game at Fenway Park. I think I would actually cry at the first pitch and would die if I got to see Papi hit one out of the stands! haha. But everyone's idea of and ideal location is going to be very different to mine I am pretty certain. But I think your dream destination says a lot about you and the things that make us tick. See, for me, it's not just about the Red Sox, it's about the entire American culture. I have always felt that I was born in the wrong country. I prefer American rock bands to UK ones, I prefer most american classical music to european (Copeland rules as far as I am concerned, he knocks any of your Bachs, Beethovens' etc to pieces for melodic motifs and harmonic structures). And I loved Cheers! haha... I think that's where I really started looking into the Red Sox and the legends (Williams, Ruth, Martinez, Garciaparra, Ystremsky etc..). So what would be your ideal destination and why?
5 responses

• United States
8 Feb 07
I'm planning a trip to India this winter, and I think it will be absolutely mind-blowing. My tabla teacher (who teaches in the US for part of the year and goes to India for the rest) is going to allow me and some other students to stay with him, and will hopefully show us around Calcutta and take us to some concerts. The music and culture of India is fascinating to me and I think the trip will be awesome. Ideally, I would like to go visit the countries where my family originated, in the UK on my dad's side and Iran on my Mom's side. The UK is doable in the foreseeable future, but I'm hoping that someday tension in the middle east will die down and I can visit Iran without worrying about whether I will be on a no-fly list when I return, haha. On a side note, I actually live in Boston, and when it's negative temperatures outside with wind chill (i.e. the last few days) its not an ideal travel destination. Come in Spring or Fall, it's much more tolerable weather-wise, and very beautiful then.

• United States
5 Feb 07
For most of my life I wanted to go to Ireland. I'd always been told I was German, Irish, Hillbilly (the Kentucky hills from my father's side). A few years ago I started doing geneology and have since learned I am a combination of nearly every country in the world. The largest portion being English, German, Australian, Swedish, Irish and even very heavy American Indian. I would like to visit all of those to "touch base" with my roots. I would also like to visit northern Canada, I've been to Canada (across the bridge from Michigan) but my grandparents spent several months in a remote location in northern Canada and I've seen pictures - it seems so beautiful, clean, unspoiled. I would love that.

• India
5 Feb 07
My favorite place to travel is Switzerland and to be particular I like the interlake ferry check out the link...!!! Awesome place I hope I could come there someday somehow...!!! Chek this link about the Interlaken ferry ..... http://www.slrobertson.com/images/europe/switzerland/interlaken-ferry.jpg

•
5 Feb 07
It's too hard to choose just 1. I've got maybe 2 top favourites, one hot, one cold!! hot - I want to visit India. I want to ride on an elephant, I want to gaze at the Taj Mahal and visit goa. I want to experience the food, the people, the beautiful scenery. The other place is cold - Lapland! I want to stay in the ice hotel, ride on a horse-drawn sleigh and more importantly I want to see the northern lights. Both those places would be ideal for me.

• United States
7 Feb 07
I would absolutely love to visit Ireland. I love the culture there, and think (from the pictures I have seen) that it is the most beautiful thing/place I have ever seen. I have never been out of the united states, and if I could choose one place to go, this would be it. Not to mention I have a thing for castles, and there are a lot of them there! Oh, I could just go on and on forever! Not to mention, men in Kilts? Yummy! ;)

• United States
7 Feb 07
I meant to add Scotland to that... hence the last comment! OOOOPs