Why the girls becoming fate after marriage?

India
February 5, 2007 5:18pm CST
I seen more girls in my village before marriage they looking very beauty and after marriage they becoming very fate. i aked one of my old girl friends she told before marriage they are giving more preference to their body they are tring to cover the boys after marriage they don;t have any feelings so they are becoming fate.
7 responses

• United States
1 Mar 07
You are correct Some girls but not all become fat.Iam girl who is same as before my Marriage and i also have a kid. It all depends on food they take and atmosphere they live. And many girls wont Diet after marriage because they wont care about their health.They have to look after their Husband and their Kids.Some times they wont get time to eat properly at correct time.I think that may be the reason for becoming fat. Of course we dont worry for the thing whether any one is going to marry us or not if we wont be good looking and slim.

• India
3 Mar 07
Thanks for your response mam, One thing i am not telling all the girls maximum girls after marriage they are not maintaining their health that why they are becoming fat.


• United States
15 Feb 07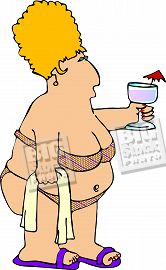 I feel when your single your life is your own. But this changes after your married. Your looking after the husband and the house. You may even have a kid or 2. This and stressful times can be the cause. Many woman are not happy fat and it's hard to lose the weight.


• India
7 Feb 07
it is because they become more happy and satisfied with their life after marriage. and they don't have to bother about their figure anymore.

• India
6 Feb 07
before marriage they have to secure ,, after marriage they have inner charm as they got whatevr they wished