Do you like Mitsubishi cars?

Singapore
6 responses

• United States
5 May 07
I have an 07 mitsubishi eclipse and its doing great!


• Singapore
12 Oct 06
Yeah, I don't think you get the FTO over there but you have the Eclipse if I am not wrong. The other version of the Eclipse is the Eagle Talon.. my favourite car too.


• United States
14 Sep 07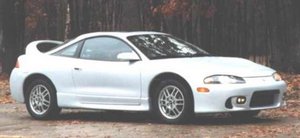 I owned a new Mitsubishi Eclipse when I was the editor of a magazine. It was white with a stick shift, leather interior, custom wheels and rims, and all kinds of extras. It was given to me by the publisher of the magazine. Man, that thing was amazing. Now I am driving a Ford Explorer and a Grand Prix. What a step down but the Mitsubishi was fun for the four years I had it!

• United States
12 Oct 06
Yes, I just got rid of my Galant I drove while I was in college. It was a nice, easy to drive and desent car for me.