Isn't my new "grand daughter" just adorable? LOL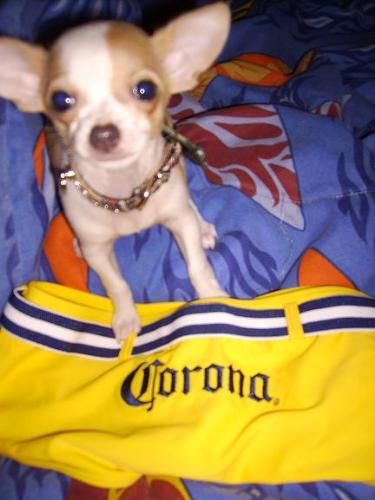 United States
February 6, 2007 4:40pm CST
I have to share a picture of my youngest daughter's new baby... Corona Rose is an 8 week Chihuahua puppy. She's so adorable. I joke that I'm a grandma and told my daughter.. THIS is the closest I want to get for at least 20 more years! lol Isn't she beautiful though? Think she'll grow into those ears? LOL
8 responses


• United States
7 Feb 07
yeah, traveling's not too keen with animals!

• United States
7 Feb 07
She is very adorable as I love Chihuahua's as they are so adorable. My ex-girlfriend's parents had a Chihuahua years ago. If I were to get a dog, I would probably get a Chihuahua. Congratulations to your new granddaughter. LOL Your daughter chose a great puppy. :-)

• United States
7 Feb 07
Thanks! My lab might disagree with u though!!!! lol

•
12 Feb 07
Oh adorable little fur ball :wub: :} I had a half chihuahua for about 14 years and I know how sweet those little paws and big eyes and ears are :} I'm sending a big snuggle to your little frail princess :*

• United States
12 Feb 07
believe me... she's kissing your whole face up! lol She is a cutie. Thanks!


• United States
7 Feb 07
lol... ur quite right... she's agrand-dogger

• Philippines
7 Feb 07
This discussion you started is so funny. I never thought that your daughter you mentioned is a puppy. In my opinion I think she's cute and friendly.

• United States
7 Feb 07
She is simply adorable I know your proud,what a sweetie!Love the name too! *smiles*