Lays Potato Chips Mmmmmm


Australia
February 6, 2007 8:01pm CST
I have an addiction to Lays plain salted potato chips...yep, I admit it LOL. I spose it could be worse. I must say though when i say Im addicted I meen, Im addicted LOL. There can be no time whatso ever, at all that my cupboard does not have a packet in there and even then im very protective of them! My fiance says its crazy hehe. Is there a silly addiction to food that you have that you want to share....go on,tell us LOL
5 responses


• Australia
11 Feb 07
AAwwww I miss my ice cream lol, I'm lactose intolerant as some of you know so thats one thing that i really do miss! Good for you hun.

• Philippines
11 Feb 07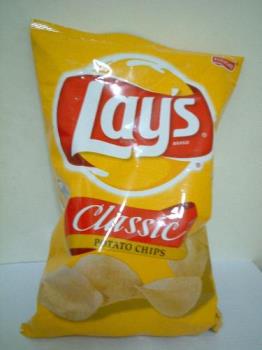 Me,im addicted also to Lays Classic Potato chip.I even eat it with spaghetti or lasagna.Once i reach out for that golden yellow bag of chips,nothing can stop me.

• Australia
11 Feb 07
Yep I know exactly how you feel :) Thanks for sharing.


• Australia
9 Feb 07
Well if it makes you happy, it cant be that bad hey lol Thanks

•
7 Feb 07
Noodles and chocolate chips, These are my addiction. But I try to be moderate because I don't have a good digestive system and I'm hyperacidic. Also if I eat too much choc chips I hurt my tongue. And it's a nightmare if that happens.

• Australia
7 Feb 07
Yeah I have food allergies so I have to be careful to


• Australia
7 Feb 07
Sounds like we're two peas in a pod ther lol, thanks for your response.