hi indians....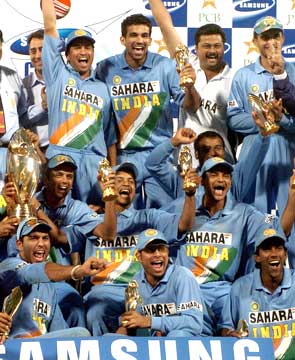 India
8 responses

• India
9 Feb 07
Let's see a few facts. 1. Aussies are without shane warne, andrew symonds and probably mcgrath. It's very difficult to fulfil their places and talent 2. Recently, England has shown that aussies can be beaten and they have done it without their key players mind you 3. Pakistan is unpredictable. They've always lost to india in WC odis 4. Newzealand is full of bits and pieces players 5. Indians can bat better than SA batsmen in slow pitches. So if the bowlers can perform adequately, out batsmen should be able to take us home. 6. Srilankans so far are psychologically beaten when facing india, thanks to dhoni and chappel 7. Windies are a difficult lot, they are in home ground, but with intelligent cricket, they can be overcome. 8. Finally, in our team, robin uthappa, ganguly, sachin, dravid, yuvraj singh, dinesh karthik, dhoni are all in good form with the bat. Similarly, we have good pace attack with zaheer khan, munaf patel, agarkar and spin bowling with bhajji and kumble. We have 3 or 4 reserve players who are good bowlers or batsmen in the form of sreesanth, VRV singh, RP singh, gautham gambir and sehwag (yes, I consider sehwag as a reserve under the present circumstances) So, team india have the talent and resources for this world cup in abundance. If they play intelligent and responsible cricket, they have a good chance of bringing the elusive and coveted cup home. Thanks.

• India
13 Feb 07
ya tis the real fact . i continue your way . but india should use their oppurtinity well,if they miss???

• India
7 Feb 07
no chance da...i think aussies will again take it...but anyway india dont hava the chance...

• India
8 Feb 07
dai stupid are you a indian .... be indian by indian.... even southafrica may get chance toget wc... how u confident tat aussies???????????

• India
9 Feb 07
u stupid..!!..since im an indian i'll always cheer for our country..but the fact s we wont win the world cup 2007..as i mentioned earlier,aussies will win it ...all the players in tat team are in very good form..

• India
11 Feb 07
yaaaaaaaaaaaaa..indians will surley win the matchhhhhhhh

• India
9 Feb 07
Yeah i would love to see our indian team lift the world cup this time esp. since we finished runner up last time to aussies when nobody gave us a chance to be in semis even. But for that to happen they will have to play exceedingly well to their full potential consistently and will have to get better as tournament reaches it's climax, esp. during crunch matches & in crunch situations. But good thing is we have players of calibre of sachin, ganguly, dravid who have peformed on big stage.

• India
13 Feb 07
ya good platers like ganguly ,dravid ,y.singh....... lets see our level best.............

• India
9 Feb 07
I think INDIA,PAKISTAN and AUS are the hot favourites .I don't think thas SA can become world champs as they I feel are somewhat unpredictable like the WI. And I being a PAK fan I would think of PAK winning and not INDIA. Bye


• India
14 Feb 07
India has a big chance to win the world cup . afterall Inda had reahed in final in the previous world cup.........

• India
10 Feb 07
indian team is the best...........i am sure that indians will win the matchhhhhhhhh