what time do u wake up???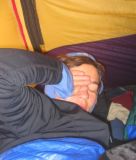 India
10 responses


• Philippines
11 Feb 07
I wake up at 4 am. It nice to be the first to wake up. You won't compete in terms of using the bathroom and the toilet.

• Romania
8 Feb 07
as i am usually going to bed somewhere around 2-3 am of course i am getting up after 12 o clock. i tried one to get up earlier, around 11 o clock but i got sick all day long :)))



• India
8 Feb 07
I NEED TO GO TO OFFICE SO I WAKE UP AROUD 8-9.BUT ON HOLIDAYS 2-3


• United States
7 Feb 07
okay.... so I don't mean this to be mean, but do you not have a job or go to school??? I saw another post you had that said you go to bed at 3-4 a.m.... I have a full time jobs and kids to get going in the morning, so I get the kids up at 6 a.m. and then they leave for school at 7, then I get ready for work and am out the door by 7:45 a.m. I go to bed around 11:00 each night, so I usually get about 7 hours of sleep. I've been doing this for so long that even on weekends, I can't sleep in any more. To me, sleeping in on a weekend is maybe 8:00 a.m..

• Philippines
7 Feb 07
i sleep very late, around 3 or 4 am (or is that very early?) so i wake up late as well. 10 or 11am, 12 noon being the latest. i'm not a morning person. i have tried many times to sleep and wake up like normal people do but even if i do wake up early, like 7 or 8, i can't function well. i'm more alive and productive during the night time.