What is your favorite candybar????

United States
6 responses

• United States
7 Feb 07
That's my favorite..butterfinger bar, chocolate bars with pieces of butterfingers in it, butterfinger wafer crisp bars and butterfinger styxx. Guess what I love them. As a close second all Dove chocolate goodies.

•
7 Feb 07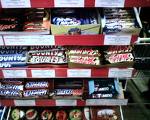 Crunchy Kit Kat, which is just a kit kat bar, but thicker with more chocolate, in case you don't have them in the States. At Christmas. they make them in white chocolate, and tey are gorgeous too! Oh, and good old Cadbury's Dairy Milk as well!

• United States
7 Feb 07
I like some many of them heheheh okay Ill pick one I say mine is snickers.mhmhmhm now look what you did. I want one and dont have any!

• United States
7 Feb 07
I love big reeses - does that count as a candy bar? I also love m&ms amazing peanut butter bar. It is sooo good. Heck, I love so many candy bars it is really hard to just pick one.