How Do You Feel About Long Distance Relationships?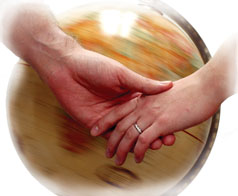 Egypt
February 8, 2007 6:55am CST
A friend of mine met some guy on the internet a couple of years ago (almost four years ago) and they used to chat a lot and then they started talking on the phone as well. They liked each other a lot, and felt comfortable talking to each other, however, they wanted to meet to really get to know each other. The problem was that my friend lived in Egypt and the guy lived in the US. However, he decided to come visit her and he really did. They fell in love from the first sight and they got together and kept dating for several years. Last year they got married and she moved with him to the US, and today she gave birth to a twin. I felt great when I heard the news. However, it got me thinking about long distance relationships. I never believed in them however, now that my friend is married I'm even more confused:)) What do you think?
No responses