Michael Jackson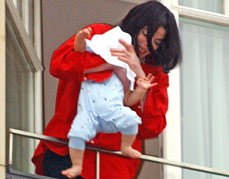 India
February 8, 2007 7:04am CST
I haven't had what you might call a normal life,' statement from Michael Jackson. It's an understatement that belies the strange journey he made from child star to global curiosity, what is he today inspite of controversies. Fame from an early age must be difficult to bear and Jackson has suggested that he had virtually no childhood, with the demands of the Jackson 5 impinging on his development. Did the loss of his childhood lead to later obsession with childish things, such as having a theme park in the grounds of his home? He couldn't go to the park, like normal kids; his talent and celebrity kept him separate from his peers. You may be knowing about this Michael well, please share your thoughts.
4 responses

•
9 Feb 07
He seems a top class fruitcake indeed but given his background and life story it's perhaps not surprising that he turned into a childish gibbering freak. Dangling your baby out of a balcony is not going to help eiter..

• Canada
8 Feb 07
I really used to enjoy Michael Jackson's music when I was growing up. I thought he was an awesome entertainer. However since he has now been accused of child molestation on more than one occasion I have become very disillusioned with him. I think he is a very sick man and want nothing to do with him or his music anymore. His upbringing it the price that you pay for your fame.

•
8 Feb 07
I feel very sorry for Michael Jackson. I think his huge fame has led him to become the person he is. I think he is a nice person but because of the way the media looks at everything that he does, he is made out to be a freak.