personality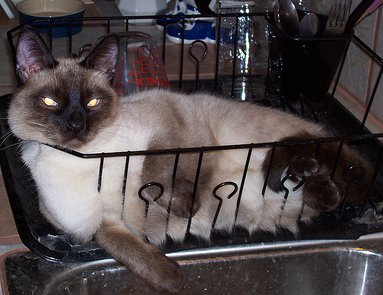 United States
February 9, 2007 11:17am CST
My house has several cats as a part of it, each one has his/her own unique personality. We have one that believes he is a dog and runs the yard with the dogs. I have one that has decided that she is the house diva and another that believes the dish drainer is his personal bed. Do you have a cat with a unique personality? Tell me about them!
7 responses


• United States
9 Feb 07
LOl, what a cutie! I have one that fishes in the water bowl and will put her cat toys in the bowl and wash them...they are a lot of fun to have around don't you think?

• United States
30 Mar 07
That is so cool that she washes her toys! Just like a racoon does! Yes, they are alot of fun, and give unconditional love; when they feel like it! My family wouldn't know what to do without Leroy guarding her fish and dragging laundry all over the house. She even takes socks and washclothes to the dang fish!

• Murfreesboro, Tennessee
10 Feb 07
I grew up with lots of cats, and I really miss having them. My favorite in the whole world was named Boots, quite unoriginally and also incorrectly (she didn't have any kind of boots at all!) This cat was my parrot (loved to ride on my shoulder), my personal bodyguard (beat up mean dogs for me), my tree-climbing buddy, and also my relaxing buddy (loved just sitting with me while I devoured books). Ah, those were the days!

• United States
10 Feb 07
Aw I wish you had a Boots in your life now..sounds like a great friend to have around. I love our cats even tho I complain and tell them they are all on their way out the door when they make a mess or get into something. I think they know I'm all talk...lol Thanks for sharing that. :)

• United States
9 Feb 07
I have 4 cats and, of course, they each have their own personality. One of my cats likes to play "ring toss". He likes to play with the ring that is left behind when you open a jug of milk. He'll bring the ring to me and expect me to throw it and he chases after it and brings it back to be thrown again. He looks so funny with the ring in his mouth.

• United States
10 Feb 07
LOL, sounds like a fun game. I have one that does that with a string. We ball it up and throw it and she will go get the end of the string and bring it back. Thank you for responding. :)

• United States
9 Feb 07
Both of my shelter cats have unique personalities. Columbus, for example, is very affectionate and comes out from wherever he's sleeping to greet family members and strangers. He loves to be petted and played with. And he'll only eat one canned food flavor --- Friskies senior turkey and giblets. My other cat, Waffles, also prefers the same flavor and brand of cat food. But she is stil a scaredy-cat in many ways and will only let me pet her if she is sitting or sleeping with me. She'll also sleep all night on the pillow next to me, but Columbus won't.

• United States
9 Feb 07
Sounds like they both make a great addition to your family. :) Thanks for responding.

• United States
9 Feb 07
Yes! My cat thinks she is a fish! She spends most of her time IN and around the fish bowl "guarding" her beta. She even jumps in the tub and swins around if we don't catch her and kick her out of the bathroom while the water is running. She even waits for the fish to be fed so she can eat the meal worms with "her" beta. silly kitty

• United States
30 Mar 07
We have 2 cats and a dog all with completely different personality. Our oldest cat is very quiet and timid and you barely see him until we go to bed and then he is up there looking to get petted before he settles in for the night. The other cat runs the house completely and is like a teenager. She is usually out all night and then sleeps all day and is only truly friendly when you are feeding her. Our dog is a mini schnauzer and is smart as a whip and very affectionate.