Get Strong Muscles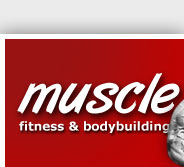 Canada
February 9, 2007 2:59pm CST
Get a gym membership, or buy a set of weights, or become very resourceful like Rocky Balboa. Find a trustworthy resource to give you exercise instructions for the muscles which you are trying to strengthen. Personal trainers are good, but you can also find great instructions in health and fitness magazines just the same as I do. Once you learn how to do a specific exercise using a proper form, do the exercise every other day. Gradually increase the amount of weight you use for each set of reps during the exercise. Increasing the weight to lify too much or fast may result you to some injuries, so watch out. Half an hour after you finish exercising, eat. It doesnt have to be much, just enough to restore glycogen levels in your body. Have a good workout!
2 responses

• Indonesia
10 Feb 07
Thankx for the information justreal, I'm actually just doing exercise at gym, about three months ago, until now, I usually do the exercise from monday till friday (sometimes fail to come because a lot of to do), until now I allready get arround 9 KGs weight increase (from arround 49 58), and last saturday when the instructor make a count on my muscle increasing, allmost all my muscle (chess, bisep trisep, thigh, is increase 5 cms), I'm very2 happy with that, all my efforts give a good result, but I'm still having a problem increase my weight more, it looks just stop there can't get anymore improove.

• Indonesia
10 Feb 07
yes, I also take a protein suplemen, its brand is amino2000 from prolab, I bought it when I just enter gym 3 months ago, I usually take 2 pills, one right before train, and one after train, why I'm only take 2 tablet a day, because the tablet size is so huge (compare to medicine tablet Ough O_O), my enchaster told me that he eat it by bite like eating candy, at first I do what he told, but I want to puking everytime do that, because the taste like eating a plastic bag (ougggh yakz), then I consume it by drinking like drinking medicine, that why I can't consume more. but I subtitute it with milk (klim), 2 glass a day, and sometimes add with soya milk a glass a day. my target is get 60 KGs.