Does anyone know what this skin problem could be on my dog?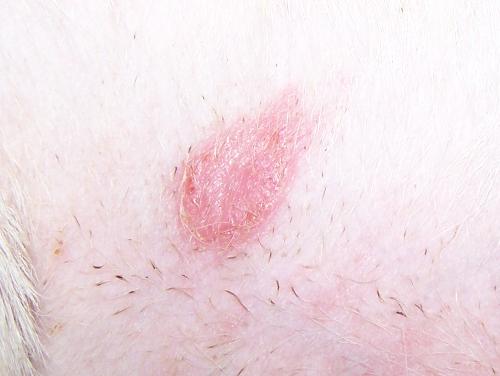 United States
February 10, 2007 7:09pm CST
I am taking him to the vet on monday. I haven't seen him scratching or licking. It is all over his abdomen, and he has scabs on his body but none of his fur is falling out. At first i thought it was a food allergy, but it has not gone away, it spread to his abdomen after 5 days of discovering the scabs on his back and rump.
8 responses

• Singapore
11 Feb 07
It looks like a skin ailment to me. Chewie used to get stuff like that and I figured out she was allergic to chicken. So now when I get her food I always must check the ingredients. Nothing of the chicken sort must be in it. And yeah, oatmeal shampoo helps too.

• United States
11 Feb 07
The first thing I think of is fleas. I have a cat that is allergic to flea bites and will get sores like that. I usually see him scratching or licking though. Since your dog isn't doing that, I'd guess some sort of skin condition. Your vet should be able to give you something to probably bathe him with to alleviate the problem.

• United States
11 Feb 07
I don't want to upset you, but we had a dog that got some "lumps". They started out just as a lump, then lost a little fur and eventually turned into a scab, but it would never heal. It turned out to be T-Cell Lymphoma (skin cancer) and she was only 7 years old. We put t-shirts on her and one of those elizabethan collars. There was no cure and the medicine was toxic to humans so we had her put to sleep. Very hard thing to watch as she was not "sick" yet, but her beautiful coat was so awful as they spread. Your spots don't look to me like they are "lumps" though, maybe more of a skin condition. I would want to rule out "ringworm" or something of that nature. The vet will probably look at it under flouresent or black light to determine that or take a skin scraping and send it to a lab before they treat it. Good luck --please let us know on Monday what the vet says.

• United States
11 Feb 07
Aw, you sound like a good doggie mama... I hope whatever it is, it isn't going to cost that much!

• Australia
23 Feb 07
Don't take this personally, but it sounds like he may have what's called the mange. This is a allergic reaction to mites. It's quite curable so don't worry too much. I may be wrong, so let us all know the outcome, I myself would be very interested to know what the cause is. Anyway give your dog a pat from me and I hope he gets well soon. Oh and by the way humans can get the mange but it's more commonly known as scabbies.

• United States
14 Feb 07
It sounds very much like a skin condition one of my dogs had. I wonder if it also smells a bit like stale popcorn, or stale corn chips? In our case, it was a skin allergy, excacerbated by flea bites-- specifically, the dog was super allergic to flea saliva. What we had to do was make a number of environmental changes to keep the problem to a minumum. These included changing her food to Prescription Diet Lamb and Rice (which nearly hypoallergenic), making sure that she was ALWAYS updated on her flea drops every three weeks (the package says 4 weeks, but our vet suggested keeping the mix potent at all times), and washing her with a special antibacterial shampoo with a lotion/conditioner applied afterwards, either every two weeks, or if she at all started scratching. Even so, it was a constant "management" process. I don't know if you let him out in the yard by himself to spend time out there, but if this IS a skin allergy, you may also need to make his outside time more "supervised," in the form of walks where you control what he gets into.

• United States
11 Feb 07
My dog had scratching and sores (but also hair loss in scratched areas). The vets said it was allergies. I now bath my dog more often with medicated shampoo from the vets. I changed her dog food to a lamb based dog food. She is also on predisone every other day. I switched to a harness instead of a collar around her neck which is the biggest problem site. The problem is better we still have to keep an eye on it. I hope your dog is fine. Good luck.

• United States
11 Feb 07
I have had to put him on prednisone before, and he has had allergies in the past. I just thought maybe he got into something he dug out of our trash can one night while we were out. He hasn't done that in so long, I forgot about the skin allergies he has. We just give him plain stuff as treats so he hasn't had an outbreak for a long time. Hopefully he isn't in a lot of pain. He is sleeping a lot more during the day, though.

• United States
11 Feb 07
My Aunt has two dog who get odd skin ailments (similiar to what you have above as well as rashes). They have never figured out what exactly it is, besides some kind of allergy. There is an oatmeal based shampoo she has to use on them that helps their skin.

• Canada
11 Feb 07
i posted something of the same problem i have with my LAb a couple weeks back. So far i changed his food diet which was chicken flavored and that took away the red rashes he had on his belly. The scabs on his knees are still there. I didnt go to the vet anymore when he looked better from the changed of food. Now i felt like i have to again since he is still scratching and licking himself alot. he had a flea once but i took it out and bathe him with Anti flea shampoo every bath time so i dont know what can make him have fleas. What other possibilities? Do let us know once you know from your vet. Vet here are expensive so taking time to decide and save.:(

• United States
11 Feb 07
I know the vet bills are high, this poor dog has had this for a week, and I thought it would heal like it did before. It is spreading so I am going to take him. I just can't sit there and wonder if he is in pain. It breaks my heart. The rash is so red in another spot in the crease of his leg, and it looks painful. Our vet is very good, and I am lucky to have found one that doesn't charge outragous fees. I will post on here what the results are and his treatment.