Persian Kittens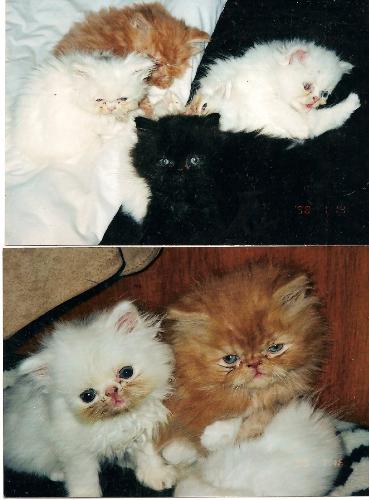 Canada
3 responses


• United States
11 Feb 07
Please be more responsible and have your cats spayed. Only one out of four cats gets adopted out of a shelter; the others are put 'to sleep'. I know it's a blessing to watch kittens be born and start to grow, but next time think about how many won't even make it to be a year old.

• Canada
11 Feb 07
My cats are purebreds . I sell them for $400.00 a piece, I do not give them away and I have refused people cats that I do not think are responsible. When someone pays that kind of money for a kitten you know that kitten is not going to be put down or taken to a shelter. Even if it was you do not see a lot of Purebred Persians in a shelter unless they got lost.And I suggest to people that they never let their cats outside ,I don't.Cats that go outdoor have a shorter life span and Persians have a big theft factor.

• United States
14 Feb 07
A Persian rarely brings $400 unless both 'parents' are titled and the kitten turns out to be show quality. I know, I have raised them in the past. You need to be dedicated to take care of these cats. No offense, but judging by your photo of the kittens you are not tending to their eye runs. People need to put the animal first, and the money second.

• Canada
14 Feb 07
My parents are both papered and I once paid $600.00 for a cat. I never have a problem getting the $400.00 and as far as their go I know all about Persians eyes you can try to clean them constantly you will never stop the running.My cats are not money makers for me they are first and foremost Pets. I love them like children, I have had some of them 12 years, when I have babies I have a waiting list.


• Sweden
11 Apr 07
What a great hobby, I can understand it is hard to part with these beauties, but I am sure they come to good homes. I have a friend who loves cats, just like me, so I often show her your kitties. Even if I can´t have cats right now, I enjoy them on pictures and they make me happy. I hope I can find some cat babies here, and take photos of them and post them here in myLot.

• Sweden
12 Apr 07
Thank you my friend for best response, it is great to have you back here.