Come see my new baby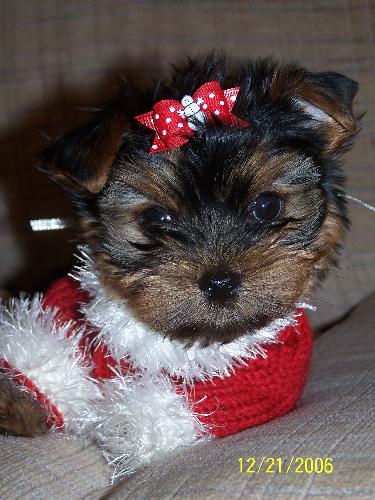 United States
9 responses


• United States
13 Feb 07
Ok this is really for everyone. I did not know how to post a reply to everyone. But thank you everyone for all your replies. She is such a doll baby. When I took that picture she was 2 months old and now she is 4 months old. She will probably get 4lbs full grown.


• United States
12 Feb 07
Oh how adorable! Mia is a born beauty! lol



• United States
11 Feb 07
Oh my God, she's absolutely beautiful! How old is she? How much does she weigh? She looks so tiny. And the little sweater an bow is adorable! I am such a sucker for puppies! Have fun with her, and keep the pictures coming!

• United States
11 Feb 07
She's adorable, how old is she? I am getting my chihuahua puppy "Bella" Sunday afternoon. I can hardly wait. She was just 8 weeks on Friday. You can see her pictures in my profile. Gizmo is quite excited to finally get a playmate...lol Good luck, she's a cutie.