Bangladesh - My Second Home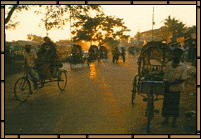 United States
February 11, 2007 12:26am CST
The People's Republic of Bangladesh is my second home. It is located a mere short distance of 11,000 miles from my other home - the United States. After twenty two hours of air time, I am able to arrive in the capital city of Dhaka. The time change is the most difficult as I have to fly over the international date line and the difference in times is exactly twelve hours. Bangladesh is home to 130 million people and Dhaka has approximately 20 million. The country is very small, about the size of Iowa in the United States. Hence, it is very densely populated. Bangladesh is very tropical. Travel to the countryside and you will see vast expanses of rice fields, fresh fruits like banana, mango, tangerine, jackfruit, coconut, and papaya. The people are very friendly and will offer you the best in hospitality. The Bay of Bengal is a totally undiscovered area with Cox's Bazar and wonderful travel resort city - that has some of the most beautiful coast line. I go almost every year to Bangladesh and I am sad to leave - anxiously awaiting my next trip. For those who have been to Bangladesh or for those interested in going there - what is your attraction to this land?
1 response

• India
11 Feb 07
Well first of all i would like to thank you for providing immense information on bangladesh. I haven't been there yet. But i would like to visit that country to explore more!

• United States
11 Feb 07
I have also not been to India - but plan to go this coming year. I will be on sabbatical doing research in Dhaka on the lives of the slum dwellers. I have a desire to go to India and Nepal - as I plan to be in Bangladesh five months this time. The closest I got to India was at the border in Syhlet. I have a vivid memory of standing at the border and seeing a Bangladeshi cow crossing over the border to India - and I shouted to the cow... "Run, hurry, be free!" (Because I know in Bangladesh that cow is just another tasty curry, but in India she had a chance of being treated respectfully). I am a vegetarian - so I really don't like when Eid day comes and all the cows are sacrified. I understand the religious significance, but it pains me to see the slaughter. If you go to Bangladesh, go to Rangamati - it is in the Chittagong Hill Tracts - it is very very very beautiful. I also highly recommend Cox's Bazar for the Bay of Bengal. I have a desire this time to go to Sundaraban's - because I want to see some Bengal Tigers!

• India
12 Feb 07
Ya you are right. And I think you know more about india and its culture! Thanks for being vegetarian. Let me tell you why we dont kill cows! Cow is believed to be the one which gives what ever you wish unlimitedly!(Like as we use its milk whole life!). Hence it is called as 'KAMADHENU'. But it never complains never expects anything! So we treat it as GOD and Worship it!

• United States
12 Feb 07
I respect that about your culture. I also should tell you that I have had close personal encounters with Sai Baba - although I have never personally met him - but I would like too.