how many of you are aware of the book-"five point someone"??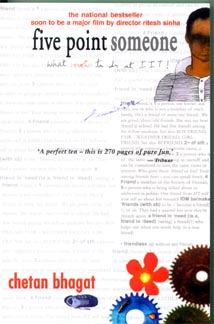 India
February 12, 2007 8:18am CST
hey guys out there, have you read the book-FIVE POINT SOMEONE??? if you have, then there is a point in thinking of getting into IIT's(albeit this book will not at all help in getting to it), and those who have not...well we don't want such people here(hurts... right????). trust me for god sake guys... this book is irresistible. once you start this you will not bother the world around you even if there is a dooms day(people say so). but this book will take you to the heights of guffawzzzz. and read it alone(you would definitely not want anybody to disturb you). read it, read it and read it....
1 response

• India
15 Feb 07
yes ofcourse... i mean who should have not heard about this phenomenal book. it really has the coercion to take you to the gist of the story and make you roll down on the floor with the breath taking comedy. it has everything emotion,drama,thrill,suspense,guffaw, and what not. its awesome!!!!!!!!!! i would soulfully suggest guys and girls out there to read it for sure.