What is Lex up to? Did he plan Lana's Baby??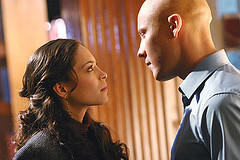 United States
6 responses


• United States
13 Feb 07
It wouldn't surprise me one little bit if Lana's baby was planned. It's hard to believe that Lex was once a fairly kind man who was once Clark's best friend!

• United States
19 Feb 07
Lex is always up to something. There's no doubt in my mind that he has a plan for lana's baby.

• United States
12 Feb 07
I was thinking the same thing, I am wondering if he artifically got her pregnant without her knowing and it is some kind of enhanced baby. All I do know is it is going to be something to look forward to watching. Smallville is getting better and better every episode. Love this show :)

• United States
2 Mar 07
Knowing Lex I certainly think he's up to something. He's never not up to anything. I think he is going to use this baby as a pawn if Lana ever tries to leave him.The Luthor's can be very vindictive and evil.Like Father Like son.After look how he and his father set up Lana to "see if she was trustworthy",playing her lika a pawn.He's up to no good and he always will be.

• United States
28 Feb 07
He's ALWAYS up to something. But in this case I believe he's up to several somethings. Keeping himself busy. Idle hands and all that lol. The fact he didn't tell that many people, let alone Lana about being injected with that serum thingy Zod had has somethin' to do with it I think if my memory's right. But yeah..I think he purposefully planned to get Lana pregnant. More of a "Haha lets take the thing Clark wants most even more away from him and see if we can turn her against him! Maybe she knows his secret." Besides the fact he's always been kinda sweet on her. The fact that the baby could be a super human kid's just a big plus to him I think.