who would you watch jamie oliver or gordon ramsey?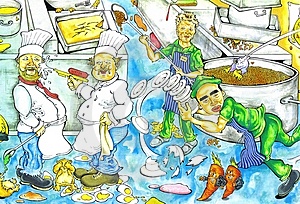 Philippines
5 responses

• Philippines
26 Jun 07
i prefer the naked chef over the hell's kitchen anytime, i think jamie is much more entertaining. much more soft. not like ramsey who seem a little bit stiff for my liking.

• Philippines
26 Jun 07
i agree with you on what you said. i never learned something from someone who is so stiff. jamie has a soft approach. thanks for the response

•
13 May 07
Hmm hard decision, i watch both as they are both good. But gordan ramays language just makes it much more different from any cook show i have seen. Gordan ramsay it is.

• Philippines
17 May 07
yes they are both passionate cooks but jamie oliver is much passionate in words than ramsey, but well i watch them both also. thanks for the response

• Canada
8 May 07
I prefer Gordon Ramsey but both are great chefs. I love Gordon's honesty and the fact he is himself on TV and not pretentious like other chefs. I like Ramseys kitchen nightmares, it is amazing how anyone can run a restaurant like some of the places he visits. On the other hand Jamie Oliver did that school lunches program and he was pretty impressive. With only a choice of two then I'd go with Gordon as he looks pretty good in a pair of shorts!

• Philippines
9 May 07
ok you had explained your side well enough. i agree with you that both of them are impressive but in different ways. thanks for the response.

• Australia
12 Feb 07
I would watch Jamie Oliver, ther is something nice about him even though I don't like a lot of the food he cooks, I think he is entertaining.

• Philippines
13 Feb 07
yes there is something in him that makes u want to watch. and he always smiles when he cooks thats a nice attitude. thanks for your responce.

• United States
12 Feb 07
I've seen a bit of both of them, and I have to say that I prefer Jamie Oliver. Gordon Ramsey as a person is just a bit too volatile for my liking, lol! I'm not really big on cookery programs one way or the other, though, but I do really like Jamie Oliver and I watched the "Jamie's Kitchen" series when I was really into reality shows, and I really quite enjoyed it.

• Philippines
13 Feb 07
i agree to what you said that Ramsey is volatile. thanks for the response