Lego Millennium Falcon!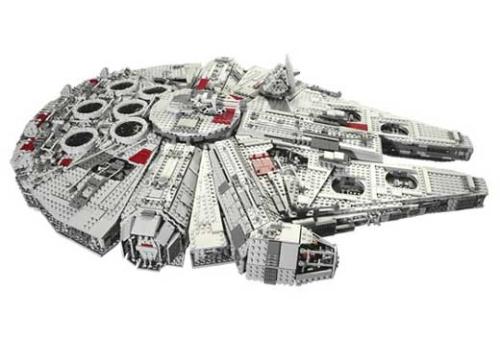 United States
5 responses

• United States
13 Feb 07
Haha! That's awesome! I love seeing HUGE lego things. There's actually a place called lego land that i'd love to see. It's got legos everywhere! Personally, I would not pay that much for it. But I do have many friends that would.

• India
6 May 07
Well,does it fly? Just kidding man, but no i ain't that much of a geek to go for it, but i'd like to see it all the same.

• China
4 May 07
Good work!there is no patience and perseverance to finish one.would you please show some lego of Star Wars geek?

• United States
21 Feb 07
The Lego site sells this for $499.99 but you can get it cheaper elsewhere. If you have a lot of Lego pieces you can opt to buy the part list and instruction book and make your own for a fraction of the price. This one is nice but the original version they had was more user friendly. The size of it alone is impressive but when you have something that is 33 inches long and 22 nches wide, it is going to be extremely hard to move around because of the weight. For the price Lego is asking, it is a bit of a rip off that you only get five basic figures with it. Don't get me wrong, I am a Lego fanatic but there are some sets that I just won't buy .. and this is one of them.

• Australia
20 Feb 07
hmmmm we have this set, but I can guarantee I didnt pay $500 for it. Took a weekend to build and was destroyed by my 5 year old in about 5 mins...LOL Have a look on Ebay, you can get them cheaper.