Do you belong to a labor union?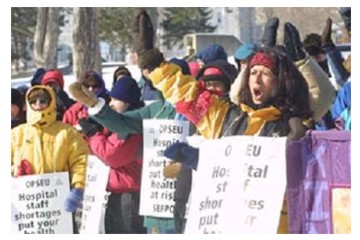 United States
February 13, 2007 7:14am CST
Growing up my dad was always a "union man". Most places you found work here locally had a union behind them. Now it seems unions are a thing of the past and fewer and fewer people are willing to stand up for their rights as a whole, for fear of losing their jobs. We do still have a few unions around, but most aren't too strong. We have the Iron Workers Union, Electricians Union, Plumbers Union, and more but the numbers inside them dwindle each year. I am just curious how many of you out there are members of a labor union and which one? How many had fathers and mothers that were union members?
7 responses

• United States
19 Feb 07
My job is through a union. We are with the Bakers union. And I like it, because there are people who are there to help you and protect you from losing your job.

• United States
14 Feb 07
As a stay at home mom, I don't belong to a union. But, my parents always did. My dad has since retired, but my mom still belongs to a union. I was never really sure what that all entailed, but I know that she won't retire until hearing what they're offering in the next contract. Oh, and she never voted in elections with the union.

• Canada
13 Feb 07
My husband is a part of the steelworkers union. He works in a factory and drive a formlift. he really like his job, i think cause he can tell people what to do. the union is great, they can't get fired for stupid things, and there is always a union rep around to get you out of trouble if you happen to get in trouble, or you are being treated unfairly. plus, every few years they negotiate a contract with the company so that you get better pay raises, better benifits, and stuff like that. i think every job should have a union.

• United States
13 Feb 07
I don't but my husband does. He belongs to the local pipefitters union. He is in the HVAC business.


•
13 Feb 07
Ive been in a union all my working life. I strongly believe it is the only way a working person can protect their rights and terms and conditions. I am currently a member of the union of teachers in futher and higher education and the prison officers association. This later organisation is a union in anything but name as prison officers in the uk are not allowed to formally unionise. The teaching union is however a toothless tiger, it really does very little for its members unless a student accuses a member of inappropriate activity then it is useful to have on your side. The prison officers association, on the other hand has real power and can change policy of the home office if it is required. Both my parents, god rest them, were members of respective unions and were both politically active all their lives, it is certainly where my interests come from.

• Canada
17 Mar 07
Most of my family are or belonged to a union at one time or another. Soem family memebers have moved to jobs that are nto unionised and belive they shoudl be but not enought peopel think they should.