where did boarcay get the white sands?

Philippines
February 13, 2007 3:26pm CST
i dunno...am just kinda curiuos about the whole thing...i still cant believe that we do have white sands on the beach....my girlfriend most of the time ask ourselves where did the white sands come from...did boracay import it or is it really nature responsible for this beautifull creation? any input on this, guys?
2 responses

• United Arab Emirates
13 Feb 07
I believe it's natural. And white sanded beaches are normal all over the world, and Philippines has lots of white sanded beaches scattered throughout the whole country not only in Boracay. I'd like to visit Boracay someday with my hubby. Any suggestions and information about it's expenses? Thanks!

• Philippines
19 Feb 07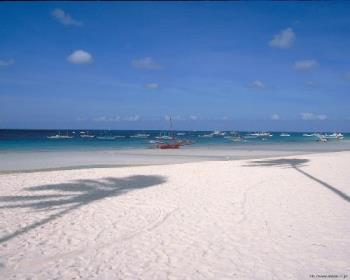 visit boracay.com or www.boracayisland.org The expenses can vary on where u are gonna stay (station 1&2 are the more expensive one sbut very nice area),how to go there(air,bus or boat).Hope u visit Boracay soon.

• Philippines
17 Feb 07
The white sand beaches on Boracay are natural. The main reason for it being white is because it came from white coral reefs and crushed shells in the surrounding area. It can then be said that where there's white sand beaches, there are also great coral reefs around. Simple logic. Although, lately, business people have made their own man-made white sand beaches. What happened is that they have a beachfront that has black or dark sand. They go to a nearby island that has white sand, steal from them and dump it on there resort. This is happening now in Camotes Island, an islet in Cebu.