Buddha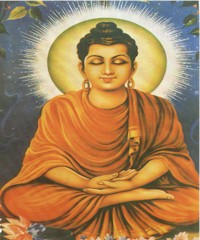 Israel
4 responses

• Laos
17 Feb 07
I do feel peaceful,too. He could leave every thing that I am proud of him. 90 percent of my Laos(country) population have respected him for ages. I just guided my family to the temple and did offering before lunch time yesterday happily.

• India
6 Mar 07

I'm not buddhist, but I respect Buddha. I respect the moral address he has given to world..."We will have to find out the cause of sorrow and the way to escape from it. The desire for sensual enjoyment and clinging to earthly life is the cause of sorrow. If we can eradicate desire, all sorrows and pains will come to an end. We will enjoy Nirvana or eternal peace. Those who follow the Noble Eightfold Path strictly, viz., right opinion, right resolve, right speech, right conduct, right employment, right exertion, right thought and right self-concentration will be free from sorrow."

• Philippines
6 Mar 07
I am not a Buddhist but my mother is. She became more religious after a series of misfortune befell our family and I have seen that it was her religion and her friends who brought her peace. :)

• United States
17 Feb 07
I think when the Creator wants to catch a persons attention ,He will do it through any means that the person will listen to.