Pancakes

United States
4 responses

• United States
15 Feb 07
The Better Homes and Gardens cookbook has a beautiful pancake recipe that my grandmother used for years, and that I use now. Here's a link to the recipe: http://recipes.bhg.com/recipes/recipedetail.jsp?recipeId=R027843&searchResults=true&showSearchNav=true&recipeNumber=20&resultCategory=kitchen&searchType=null&adCategory=&_requestid=115125 There are also a LOT of other pancake recipes at the site.

• United States
15 Feb 07
Pancakes (the mix of these dry ingredients makes 2 batches of pancakes so use 1/2 and store the other half for next time) 2 cups all-purpose flour 5 teaspoons baking powder 4 tablespoons granulated sugar 1 teaspoon salt Combine 1/2 of mix with: 1 egg, 1/4 C. vegetable oil 1 C. milk Stir until well combined. Allow to sit in the refrigerator for 5 minutes.

• United States
16 Feb 07
for this recipe if you make the batter sit overnight, the baking powder active, and the pancake will come out much for fluffier. Also you could substitute the milk for buttermilk and get buttermilk pancakes

• Belgium
15 Feb 07
Well, American pancakes are apparently completely different from the ones I'm used to, but basically it's just (self-rising) flour, eggs and milk all mixed together, with little salt and sugar too. (2 to 3 times more milk than flour, and one to twe eggs)

• United States
21 Feb 07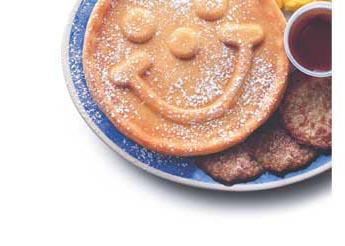 Here is a recipe website that I swear by: http://allrecipes.com/Search/Recipes.aspx?WithTerm=pancakes It has over 200 recipes for different flavored pancakes. Just think, you could have a new recipe to try for almost everyday of the year. Each recipe gives review by other persons who have tried the recipe and what they changed. It is a terrific tool and has helped me on many a night on what to make for dinner. give the site a try and enjoy a few of the lip smacking recipes. don't forget to mark your best response. Oh yeah, here is my favorite recipe too! Fluffy Pancakes INGREDIENTS: 1 cup all-purpose flour 1 tablespoon sugar 2 teaspoons baking powder 1/2 teaspoon salt 1 egg 3/4 cup milk 1/4 cup shortening, melted DIRECTIONS: 1. In a small bowl, combine the flour, sugar, baking powder and salt. Combine the egg, milk and shortening; stir into dry ingredients just until moistened. 2. Pour batter by 1/4 cupful onto a greased hot griddle. Turn when bubbles form on top of pancakes; cook until the second side is golden brown.