Patchwork Heart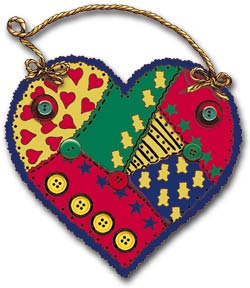 Australia
7 responses


•
17 Feb 07
that is so beautiful..i used to do these things long time ago..maybei should start again and make a double quilt for our bed..i am sure my hubby would love that..but i would have to sew by had as there isn't room here for a sewing machine..

• Australia
17 Feb 07
Have fun, I hope it works out for you...:)

• United States
16 Feb 07
That is beautiful. It is made for paper but I was thinking wouldnt it be beautiful made form calico material with the buttons sewed on for decoration. Rick rack around the edges. I think it would beautiful. It would look good as a Christmas ornament too if it was quilted, it would be stiff enough to look great. Make a larger one for an outdoor Valentines Day flag. The possiblities are endless. Thanks

• Australia
16 Feb 07
Yes I thought of material for those who are good with a sewing machine which I am not, but you have added some very good idea there...I am sure you will inspire a few..


• United States
13 Mar 07
That is very cute. It would be very simple to make. Thanks for posting this site.

• United States
21 Feb 07
That's cute and looks easy to make. Too bad I didn't see this one before Valentine's Day or I could have made a few of them, sheesh, maybe next year. The patchwork heart would also be good for Mother's Day too, how neat! Thanks for sharing.

• Australia
21 Feb 07
yes it would be good for Mothers Day, good one ....:)

• United States
28 Sep 07
Thanks for sharing this. I just wish I had time to do Crafts like I used too, but I never seem to have the patience to finish much I start on this realm anymore.