who got fondant cakes recipes???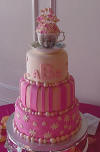 Philippines
5 responses

• Philippines
17 Feb 07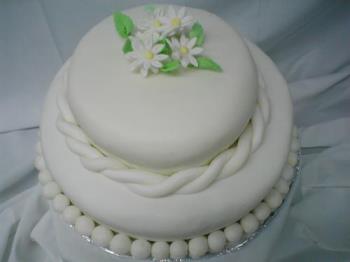 16 ounces white mini marshmallows (use a good quality brand) 2 to 5 tablespoons water 2 pounds icing sugar (please use C&H Cane Powdered Sugar for the best results) ½ cup Crisco shortening (you will be digging into it so place in a very easily accessed bowl) NOTE: Please be careful, this first stage can get hot. Melt marshmallows and 2 tablespoons of water in a microwave or double boiler: Put the bowl in the microwave for 30 seconds, open microwave and stir, back in microwave for 30 seconds more, open microwave and stir again, and continue doing this until melted. It usually takes about 2 ½ minutes total. Place 3/4 of the powdered sugar on the top of the melted marshmallow mix. Now grease your hands GENEROUSLY - palms, backs and in between fingers, then heavily grease the counter you will be using and dump the bowl of marshmallow/sugar mixture in the middle. (By the way, this recipe is also good for your hands. When I'm done, they are baby soft.) Start kneading like you would bread dough. You will immediately see why you have greased your hands. If you have children in the room they will either laugh at you or look at you with a questioning expression. You might even hear a muttered, "What are you doing?" Keep kneading, this stuff is sticky at this stage! Add the rest of the powdered sugar and knead some more. Re-grease your hands and counter when the fondant is sticking. If the mix is tearing easily, it is to dry, so add water (about ½ tablespoon at a time then knead it in). It usually takes me about 8 minutes to get a firm smooth elastic ball so that it will stretch without tearing when you apply it to the cake. Its best if you can let it sit, double wrapped, overnight (but you can use it right away if there are no tiny bits of dry powdered sugar). If you do see them, you will need to knead and maybe add a few more drops of water. Prepare the fondant for storing by coating it with a good layer of Crisco shortening, wrap in a plastic- type wrap product and then put it in a re-sealable or Ziploc bag. Squeeze out as much air as possible. MM Fondant will hold very well in the refrigerator for weeks. If I know that I have a cake to decorate, I usually make 2 batches on a free night during the week so it is ready when I need it. Take advantage of the fact that this fondant can be prepared well in advance.

• Philippines
17 Feb 07
oh., thank you thank you so much my friend., now i got two fondant recipes!!! got another one?! really thanks friend... you help me alot...

• Canada
17 Feb 07
you can either buy rolled fondant from the store or you can make your own. here is a recipe: 3.5 cups icing (powdered) sugar 1/2 tsp cream of tartar 3 Tbsp whipped cream 1 egg white, lightly whisked 1. Prepare your work surface by dusting it with some powdered sugar. 2. In a large bowl, sift together the powdered sugar and cream of tartar. 3. Stir in the cream and egg white until fully combined. the texture of the fondant should be firm but workable (it will be like edible play dough). 4. Dust your rolling pin with powdered sugar and roll the fondant out until it is about half an inch thick. it can then be cut with a sharp knife or cookie cutters dipped in powdered sugar. NOTE: If you would like to add flavorings, add 1 tsp of your desired extract or flavoring oil when you add the cream and egg white. if you would like to add colors, knead a few drops of liquid food coloring into the fondant after all the other ingredients have been combined. If you need tips on how to cover your cake with the fondant, i highly recommend the website www.wilton.com

• Philippines
17 Feb 07
thanks friend... you are so much of help for meh... and im thankful you did... thanks fior the recipe... hope there's more to it where it came from.. thanks frined

• India
14 Jan 08
I also always look forward to go to functions at hotels especially hi-tea because i get to eat varieties of cakes. Even at dinner or lunch buffets, i will go to the desert section first to check out their cakes. I like other cake flavors too such as fruit cakes, mocha, cheese and carrot cake.

• Brazil
27 Feb 07
i found a great recipe,hope be a sucess in your business:) Chocolate Raspberry Fondant Cake Ingredients: Tools Required 1 x 14-inch round cake pan, 3-inches tall 1 x 10-inch round pan, 3-inches tall 1 x 8-inch round pan, 3-inches tall 1 x 6-inch round pan, 3-inches tall 2 x cardboard cake bases, 10, 8 and 6 inches respectively 1 x cake platter, at least 16-inches across untreated wooden doweling offset spatula piping bags and tips For Cake 5 cups unsalted butter at room temperature 10 cups sugar 5 cups Dutch process cocoa powder, sifted 10 x large eggs at room temperature 5 cups 2 % milk at room temperature 2 tbsp vanilla extract 12 1/2 cups all purpose flour 3 tbsp baking powder 2 tbsp ground ginger 1 tbsp salt 2 tsp baking soda 6 cups hot brewed coffee For Buttercream 12 x large egg whites 1/2 tsp cream of tartar dash salt 2 1/2 cups sugar 1 1/2 cups water 4 1/2 cups unsalted butter at room temperature 2 tsp vanilla extract For Royal Icing 1/2 cup warm water 4 1/2 cups icing sugar, sifted 1/2 tsp cream of tartar To Assemble 2 cups raspberry jam 2 kg. Australian rolling fondant pink paste food colouring egg white for fastening decorations velvet ribbon To Assemble Preheat oven to 325 °F. Grease cake pans and line bottom and sides with parchment paper. This recipe can be made 2 batches by hand, or in one batch in a very large bowl using electric beaters. Beat butter, sugar, cocoa powder and eggs until smooth and even. Add milk and vanilla and beat in well. In a separate bowl, sift flour, baking powder, ginger, salt and baking soda and add to cocoa mixture, blending until smooth. While slowly beating, pour in hot coffee. Pour batter evenly between pans (put them side-by-side to gauge height) and bake 6-inch tier for about 35 minutes, until a skewer inserted in the center of the cake comes out clean. The 8-inch cake should take another 10 minutes, the 10-inch 10 minutes more, and the 14-inch another 10 minutes beyond that. Let cakes cool for 20 minutes, then turn out onto cooling racks to cool completely. For buttercream, whip egg whites with cream of tartar until foamy and add 1 cup of sugar, whipping until whites hold a soft peak. In a saucepot, combine remaining 1 ½ cups sugar and bring up to a boil. Using a candy thermometer, boil sugar without stirring until the temperature reaches 240 °F (or if you don't have a candy thermometer, spoon a little hot sugar into a cup of cool water – when the sugar makes a "soft ball" then it's ready). Remove from heat and carefully pour sugar slowly down the side of the egg white bowl, whipping on medium speed. Continue whipping until all sugar has been added and keep whipping until whites have cooled to room temperature, about 5 minutes. Still beating, add butter a little at a time until all has been added. The egg whites will deflate, but the butter adds back volume. Beat buttercream until smooth and stir in vanilla extract. Store buttercream at room temperature if frosting cake the same day, or refrigerate then bring up to room temperature and beat again to return to spreadable texture. For royal icing, stir together all ingredients to blend then beat with electric beaters on high speed until mixture is stiff, about 7 minutes. Tint icing as desired. Cover surface of icing directly with plastic wrap and store at room temperature until ready to pipe. To assemble cake, place 14-inch cake on largest platter. Slice cake horizontally into 2 layers. Spread a thin coating of buttercream over bottom layer and spread a layer of stirred raspberry jam over buttercream and top with second cake layer. Spread an even coating of buttercream over top and sides of cake, using the frosting to even out any unleveled areas and create clean edges. Set cake aside at room temperature while preparing remaining tiers. Repeat slicing, filling and "masking" (frosting the cake) other 3 tiers. Brush away any excess crumbs and scrub down your work area before starting the rolling fondant. To tint your fondant, add a little of the colour paste to a small ball (about ½ cup) of fondant and knead well. Add this ball to a larger portion of fondant (about 750 gm for 2 tiers) and knead by hand or in a mixer fitted with the paddle attachment. Adjust colour as needed by adding more colour to intensify the tone or more icing to lighten the tone. Lightly dust your rolling surface with icing sugar and tear off a portion of white fondant (I like to cover the white tiers first), and roll out to ½ -inch thick circle. Keep remaining fondant covered at all times. Use your rolling pin to roll up fondant and lift it gently over to 14-inch tier. Unroll fondant over cake and gently use you hands to adhere fondant to frosting. Trim bottom of fondant and rub fondant in a circular direction to create a smooth surface. If any airpockets appear, use a pin to release the air and rub the spot gently with your finger to erase the hole. Repeat this process with the 8-inch tier. Roll the pink fondant similarly and cover the 10-inch and 6-inch tiers of cake. Let fondant set and dry overnight. Fondant can be re-rolled as many times as needed, provides the icing does not pink up any crumbs, reserving for decoration. Now that the cakes have been covered, they are essentially preserved and protected from air. You may makes these cakes up to 5 days ahead, and still have moist cake within! To make sure layers remain stable, they must rest on wooden doweling. To do this, insert a length of doweling into bottom tier, at least 4 inches from the outside edge. Mark where the top of the cake ends at the doweling with a pen and remove. Cut doweling to marked length and cut 4 more pieces of identical length (this ensures you cake sits level, even if the frosting is just a hint off). Insert the five pieces of doweling into the cake in a circle and gently place the 10-inch tier on top. Repeat this step with the 8-inch and 6-inch tiers, placing 3 cuts of doweling to support the top tier. To decorate the cake, bottom tier, wrap velvet ribbon around base of cake. Fill a piping bag fitted with a small plain tip with pink tinted royal icing. Pipe small dots around cake. Repeat this with the 8-inch white tier, wrapping with ribbon and creating a different dot pattern. For pink tiers, roll out white fondant to ¼ inch thick and cut out desired shapes. Fasten dots to cake by brushing back of cut-out with egg white and adhering. This cake can be prepared 5 days in advance and can sit at room temperature (out of direct sunlight) indefinitely.

• Philippines
1 Mar 07
thanks to all of you for the fondant recipes... im so greatful and honored... thank you my friend... your recipe helps me alot...

• India
17 Feb 07
Rolled Fondant is a distinctive type of icing that is rolled out similar to pastry dough and then draped over cakes. The icing gives a very smooth finish to a cake and is actually easier to use than traditional spreadable icings. Fondant is the most common type of icing used in England and Australia and is used on nearly all Canadian wedding cakes. In these countries, rolled fondant is nearly always placed over marzipan. In the United States, fondant is commonly placed over a thin layer of buttercream. if you can goto this link you will find many ways to get the solution for your query, i tried my best to find one for you hope youw ill like it. www.wilton.com

• Philippines
18 Feb 07
thankyou thank you for the site... im glad for the idea uve given me... i really truly appreciated it so much