Britney Spears SHAVES her head!!!!!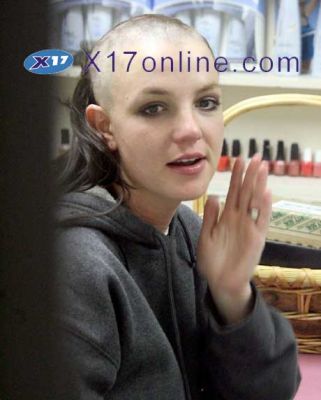 Italy
February 17, 2007 8:27am CST
Today a terrible news!! Britney Spears shaved her head because she is tired of being "Touched" 7 pm: Britney went to a hair salon on Ventura Blvd in the San Fernando Valley. Apparently she had called someone from the salon, which was closed, to come back and open the doors just for her. Our photographers say she was crying in the car for ten minutes before she went inside — you can even see wet tear stains on her sweatshirt. She then went inside and did the deed herself — picking up the shears and shaving her head. 7:30 - Britney leaves the salon and heads to Body & Soul Tattoo where she gets some new ink on her right forearm and then does something in the back room — perhaps another piercing or a tattoo on the middle part of her body. 9:00 - Britney returns home. What a terrible news!! I loved Britney Spears and her hair!! Why this stupid thing??? Do you like the new B.Spears look? I don't!:-(( I add you some pictures of her while shaving!
8 responses


• Malaysia
20 Feb 07
I think may be she aleady bored with her hair.But form me its looke so ugly and bad with new appearance.Are you like it?

• Italy
19 Feb 07
Yeah I heard about it! I was totally shocked when I actually saw the pictures of her new look...


• Romania
18 Feb 07
i think Britney Spears is upset with life and she misses someone , with all her troubles in her life she still has to take care of two babies. i think she doesn't trust anymore on the people surounding her and i personally think that she needs someone to take care of her.

• Greece
17 Feb 07
This is her problem. She needs for money so she decides to do something crazy so as to be the first name in the news.

• United States
17 Feb 07
I read this info this morning too. You have to admit Brittney is pretty messed up right now- I think it was her peronal choice to do this- I'm completely unsure why she would go this drastic?? But she did-- She must be happy with it.. I just hope it doesnt scare her kids. Do nto fret though- hair grows back! She was just making a statement- What exactly was that statement?? No clue!