I'm right in supporting Ganguli

India
7 responses

• India
17 Feb 07
Well its a known fact that Indian player's are pure flat track bullies when it comes to home ODI series and have occasionally faced trouble only from (Australia, SA, WI), otherwise it is a known fact that they will win any match in these flat pitches. Not just Ganguly, Sehwag, Sachin will all be tested in West Indies where the pitches are not conducive to such kind of stroke play. Till the World cup ends i am keeping my finger's crossed, its difficult to predict who will succeed, but for sure it will signal the end of many senior cricketer's.

• India
17 Feb 07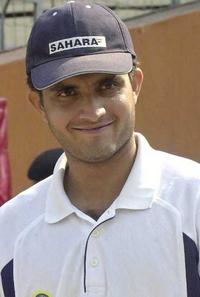 i have always been a fan of Ganguly from the time he first set foot on the international cricket scene and i still am and i am proud of it.he is a stylish batsmen and the one of the best sportsmen in the world.He has proved how great he is by making a comeback and winning the man of the series.way to go DADA.you will always be our hero.

• India
17 Feb 07
The hero returns. Well this is what the current form of Dada says. He is back and all recharged. I think he is gonna rock the show to the world cup. But then also, I can't say anymore till they don't prove it.

• India
18 Feb 07
I supported Ganguly from the first.He should not have been dropped from the team.Well whatever happenned was for his qwn good.THE HERO RETURNS.He will prove his worth in the world cup.

• India
18 Feb 07
Sourav Ganguly has been a very good Indian team captain.He has been a very good player and is performing consistently.He has helped India to win two series back to back against West Indies and SriLanka.He has got very good experience and has been a very good guide to others.He has lead India to many wins.

• India
17 Feb 07
You are supporting him now but I was with him since the time he was dropped from the Indian team let me tell you I was so upset that for at least a year I never saw a single match of India. He is this was the height of frustration which I was being through when he was dropped from the team. But I always wished that he made a comeback to show the world that he was right he has still the ability to play international cricket and that he has runs under his belt sometimes if they think about it and feels so sad that such a great player has to prove his worth again by competing with players who are just plain ronjy trophy players were not even picked for the international team then how can you decide if a player performs well with them but still at the end of the day he made a comeback and that is what matters. Now Indian team cannot even think of playing in the World Cup without Saurav Ganguly.

• India
17 Feb 07
Sourav ganguly is matchwinner, world class player who has won matches for india singlehandly like sachin. And i admire the way he has come back into indian team with a bang and playing matchwinning knocks for India. This is tribute to his mental strength, grit ,determination and hunger to succeed. I like his approach to game as he is fighter to core. Besides he has been one of the ebst captains india has ever produced. I just wish him & indian team best of luck for world cup, so that he and indian team can bring the world cup to India.