Britney has shaved her head

February 17, 2007 10:41am CST
Has anyone seen the pictures of Britney with her shaved head? She looks awful. What is going on with her now?
2 responses

• Philippines
17 Feb 07
can u share to us where did u see it?im just curious how she look like when bald. i cant imagine her doing that. i really dont know what happen to britney spears this past couple of months. is it a way of rebellion or just to have publicity. but i dont think she needed publicity coz for me she is famous. i dont want to hurt anyone who is a britney spears fans, im just being confused why she acted this way. could anyone share any information why she is doing this?

•
17 Feb 07
http://news.sky.com/skynews/article/0,,30000-1252045,00.html Hi hopes this works for you

• Defiance, Ohio
17 Feb 07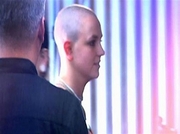 Here is the imagine of her shaving her head. I wonder why she did it. I think she is nuts. But I think it was cool of her to get a tattoo.