A GREAT/LEGIT(PROOF) GPT site!!!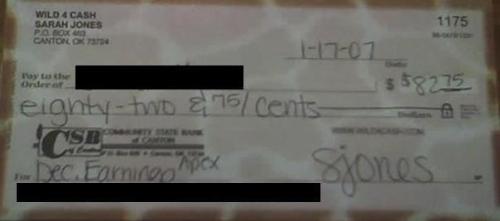 United States
February 17, 2007 7:37pm CST
I met the low minimum requirement of $10.00 in less than 10 mintues! I have a picture proof of payment of 82.75! They also have lots of great/fun contests! You will be referred no matter what so I would appreciate it if you used my refferal link! My user name is lastcry http://www.wild4cash.com/members/register.php?ref=lastcry I also have a personal website full of links and payment proofs http://www.freewebs.com/moneytrooper
4 responses

• United States
18 Feb 07
Hi killjoy. This looks like a great site. I signed up under you on wild 4 cash. I have been going crazy all week signing up for new sites. Pretty soon I am going to have to pick and choose which to keep. I know it will soon get out of hand.

• United States
18 Feb 07
Hi! Thank you for the compliment! Also thank you for signing up for me under wild4cash! A good tip would be to create a freewebsite as I have done and do the vistaprint offer on wild4cash...it pays $9.00 and you can use them to promote your site! Even if you choose not to use all the sites you sign up for you can still get people to sign up for them under you so that you get referral $. Good luck on all your earnings...i'd love to hear which sites you have signed up for...i'm always looking for good sites. If you have any questions just ask!

• Philippines
18 Feb 07
wow this sites which you had shown was very nice. But I really am thinking if they are for International suers and do they pay for e-gold? It seems nice hoping it would work out for me.

• United States
18 Feb 07
They are not as directed towards internationals but they do have some good paying offers which they even provide a list of which offers on the forums (at least for the first site I know) Also the offer at the very bottom of the page IS directed at internationals...but I have no proof that one is legit.

• United States
18 Feb 07
Wow I hope they stay for a while seems like they pay out allot in a short time, I'm way to busy but i would register if I had more time in a day then 24 hours. Promoting of my site, and everyone else's. Take Care Jon