What business to start?

Philippines
February 17, 2007 8:17pm CST
I'm an Air Traffic Controller working for the government and lately, I'm not quite enjoying my work. It's a very stressful job in a stresful environment. Maybe the lack of motivation is the reason why (we were not paid our overtime claims for the past year). Anyways, I'm thinking of starting a small business as I am planning to resign from my job. Can you guys help me think of something to start up with? A small business idea would be great.
4 responses

• Philippines
19 Feb 07
well, there are a lot of ways to start yourself your own business. you can go online and search for any website that relates to entrepreneurship or you can first visit this website i found very useful because it contains articles on business and other mney stuff that can help you. the link is http://yourfinancearticles.com/biz.html . hope this helps.

• New Zealand
18 Feb 07
Air Traffic Controllers! Wow. These guys are among the best paid in countries like New Zealand, Australia. If you have qualified for such a job, then it is clear that you have the ability to: 1. Work well under pressure. 2. Keep complex patterns in your mind. 3. Have numeracy competence 4. Work with high tech gear. With all this, you could easily look for overseas jobs and earn better money. But if you are very keen - you probably could do freelance programming and be good at it too. Cheers and all the best.

• Philippines
19 Feb 07
Thanks for that. But here in the Philippines, it's all different. I think most people doesn't even know what we do. I'd think about that programming. Cheers!

• Indonesia
19 Feb 07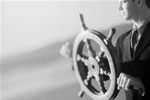 what your specialization. do the job or business according to your specalization. and you will enjoy it