Give Editing Powers to Members of mylot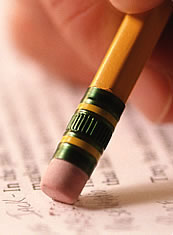 Philippines
February 18, 2007 4:11am CST
Have you experience clicking the start discussion, but forgot that you have an image to upload? Or after clicking the start discussion you forgot something to type/misspelled, etc...And you can't go back or edit it to correct it. I hope mylot would give us the editing powers even for just once. What do you think?
3 responses

•
18 Feb 07
It would be good to be able to edit your own posts and remove your own discussions as it's embarrassing if you notice a mistake afterwards. I've also accidentally started more than one topic on the same thing as my original one didn't show up when I posted it. This was when I posted a discussion under an interest no one else had posted any subjects under yet. Does anyone know why that happens incidentally?

•
18 Feb 07
Just checked they still aren't showing up for me though people on my friends list have responded to them, what gives?

• Philippines
19 Feb 07
It's not only you who proposed for this editing stuff. I already answered some discussions with the same topic and once again I strongly agreed with that request. It happened to me not only once and really wished that I can edit my discussion. To myLot management, kindly consider this request, pretty please.

• India
18 Feb 07
As you have said we find the need of editing the discussion or the response sent to modify or correct the errors and mistakes. This facility is there in another site like mylot, where users change or modify the text in such a contrast way, then the responses sent by some users look just funny. Here in this case users are requesting for stopping the edit option to users. What I want to tell you is that, The facility of "add comment" could very well resolve your problem, and not the edit option, which has a drawback as said above.