Does GOD exist!?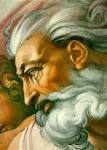 India
5 responses

•
20 Feb 07
I think only you know the answer to this question. Some people want a reason for life and belive that a God put us here and that makes them more happy in their lives. Other people like me turn to science for the answers and believe that in the future we may know the truth but at the moment we just need to life our lives as best as we can.

• India
20 Feb 07
I think you are right. It is up to me to choose between. Thank you Take care

• Pakistan
20 Feb 07
You are absolutely right. in the third world especilly muslim world where any talk on religion is severely prohibited, even punished both by the government and society at large. There are millions who are atheists, deists Humanists, Rationalists and skepticals but they can not openly claim that because of the fear of being beheaded. With media and exposure to modern education and new ideas we are surely skeptical about god. Why is that god (otherwise merciful having all knowldge and command on us) could not interfere hundred of thousands were crying at the atomic bomb explosion at hiroshima in 1945? Think it!!!!

• United States
20 Feb 07
I agree with the first response....some ppl feel a need to believe in a higher power others such as myself USE TO believe in it all but as I got older there was so much that I saw that contradicted everythign I'd held so strong and then as I got older still I found my way and ultimately left that all behind since it served no purpose for me and actually did more damage than good...then others still just dont believe and feel no need to becaue they prefer to put stock in science etc.....Only YOU can answer the question (like the first responds mentions)...nobody can answer it for you nor should you allow anyone to TELL you that whatever you believe, regardless of what it is, is wrong...

• United States
20 Feb 07
It just blows my mind to no end to hear someone say "there is no God". How foolish! Of course there is a God! He is the Almighty, Creator, Heavenly Father, The Alpha and the Omega, the Beginning and End. How can one see the beauty of the earth and the heavens and not believe in Him? I believe that those who claim not to believe in Him want to run their own lives. They don't want to obey God even though it is the best thing to do. They want things THEIR way. God is very real and one day every single one of us will stand before Him in Judgement. Whether you choose to believe or not, it WILL happen. You WILL see God.

• United States
20 Feb 07
"How foolish!" how RUDE! Song you are most definately entitled to believe in whatever you like but that doenst make anyone who doesnt believe the same as you "foolish"..try and choose your words a little more carefully next time...

• United States
20 Feb 07
Jo/Jessie, The Bible says "Only a fool says 'there is no God'" I'm just quoting the Word of God.

• India
21 Feb 07
Hey springlady, Whatever your opinion may be, Why do you want to sound so RUDE !?. This is just a discussion. Take care


• United States
22 Feb 07
I refuse to believe that the earth "made itself". Animals, trees, did not come into exsistence by themselves. I don't believe there were cavemen, either and evolved into what we are today. So, God made the world, and made people after his own image. I guess if God made appearances, like he did in bible days, it'd be easier for you to believe he exsists. I can't justify it better than that. Bottom line: "God made the world" so he does exsist.

• United States
22 Feb 07
Seek and ye shall find knock and the door shall be opened If you truly want an answer to that question all you have to do ask God to manifest Himself to you in a way that you can understand. And then wait with an open mind. If you feel that you have not recived a response you can continue with your life in the knowledge that you made the effort. But be careful what you ask for

• Canada
22 Feb 07
re:bushidoSage As soon as the student is ready, the master will appear lol I just had to joke with him:) The way that you are approaching the subject is the way of a scientist and here lies the problem, now I want proof. Prove to me there is a god. Well even if we were to bring you some sort of proof it wouldn't be something that you would be able to measure with your current tools that you have. So it would be a pointless endeavour. So I feel you need to change your approach, into a search for god with a little g not a big G :) your search for god that will relate to you, lift you, and help you to understand who you are spirituality. We can't tell you what/who that is. You are the only one that can do that. You're going to have to try different things that interest you. Be open to new experiences. Read books! Follow your spiritual path.... I think what might be able to help you with your search is looking for more of a life changing experience that would bring a 'knowing' inside of you or an 'awakening'. Something that grabs inside your gut that says 'Yes!' "I know that!" (and beleive me..that happens...just ask BushidoSage:) Then you know that you've found your place and your God. You might be suprised to see where you end up :) namaste nancy