How many pizza's places do you have in your town?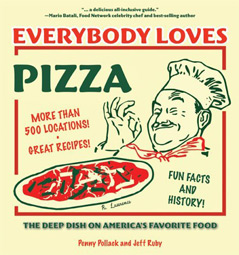 United States
February 20, 2007 4:13pm CST
How many pizza's places do you have in your town? 1,2,3,4,5,6,7 or even more??? Who knows until you post it.
9 responses

• United States
20 Feb 07
There are way to many to count. I like in a college town so there has to be more than 30 pizza shops in the entire city. There are about 1, 2 or even sometimes 3 pizza shops within a 1 block radious. Atleast there are many choices to the taste in pizza. If one place is not open then there is always another one right around the corner.

• United States
21 Feb 07
Wow that is alot of pizza shops and I live in a small town so there's only 3 pizza places the best one is a place called (Hunt's Brothers Pizza) it is so greasy and good I just love that pizza with a passion. lol

• Northern Mariana Islands
30 Aug 09
here where i Live we onLy have one & thats pizza hut ! we dont have anything eLse but that one pizza hut !

• Philippines
24 Feb 07
There are actually a lot of pizza houses here in our city but the most famous are Pizza Hut, Shakeys, and Sbarro's... am not really sure if you have these in your place coz am here in the Philippines... well, amongst these three..I love Shakeys the most..there pizzas are just amazing and in fact, my boyfriend and I grabbed a large pizza, I mean large only for both of us.. lol


• Portugal
22 Feb 07
I think 6 if I'm not wrong and some of them are really out of place =P Difficult access..

• Philippines
22 Feb 07
There are a lot of pizza places in a city. In the city where I live in, there would probably be more than 30. Some of them are Pizza Hut, Greenwich Pizza, Sbarro, Shakeys, Dominos and some infamouse pizza places like Lotsapizza. We have a lot of restaurants to choose from. My favorite though would be Sbarro. They have a lot of pizza plavors to choose from.


• Greece
20 Feb 07
I dont know of course. I dont count them. But they are a lot.