We are so bad but it is really funny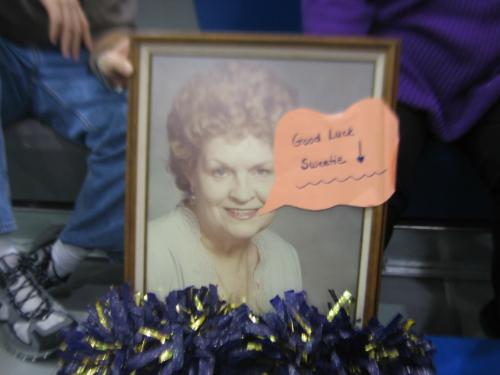 United States
February 20, 2007 5:38pm CST
My grandma was a dancer when she was younger and she had this really big picture of herself. Well when we had to put her in a nursing home and auction off everything no one knew what to do with the picture and we being the awful people we were started a new tradition so to speak. Grandma shows up every where and if my download worked you can see why the picture is a bit amusing. Well what happens is she will show up when you least expect it. It is like a game we have trying to give it to someone when they least expect it. No one leaves their houses or cars unlocked anymore cause sure enough she will be sitting there when you get back if you do. She has been all over Nebraska where most of us live as well as Texas and Kentucky. She has been given as wedding gifts and has ended up under the covers for an unsuspecting bride and groom to find on their wedding night. Her last adventure was showing up at a basketball game on the bench where my bother inlaw is a coach and my nephew plays on. She even went out with the cheerleaders at half time and was part of the cheer. I know we are getting points in heaven over this but it has kept us amused for many many years now. So here is to my grandma who has brought joy to her family without even trying!!
2 responses

• United States
21 Feb 07
That is so funny, and a great tradition to keep your grandmothers memory alive in a happy, fun way!!

• Canada
20 Feb 07
You are so right. That's really funny. And it's kind of sweet. What a great family tradition. Just think... in 100 years.. no-one will remember you but Grandma will still live on. I hope for your family sake this tradition sticks.. I don't think your bad at all.. It's cute.