What Do You Feel After Seeing Jumong TV Series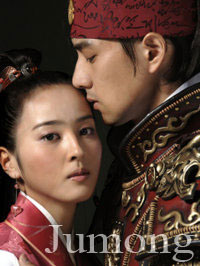 Indonesia
February 21, 2007 12:47am CST
I have watch a lot of Korean drama series. But this Jumong is so rock! I can't believe that I'm falling in love with this TV series. The dialog is good, the casts is perfect, and the story makes me cry (and laugh). Now I still in the middle of the episodes. The side effect of watching Jumong, for me, is that I almost never interest with the other Korean TV series anymore. Oh no... What do you feel after seeing Jumong TV series?
3 responses

• Austin, Texas
10 Dec 17
Will have to put this one on my watch list.

• Philippines
11 Mar 07
the more you'll be in love w/ Jumong if you reach almost the end of the story. there are lots of twist.... JUMONGERS rock!!!

• Philippines
28 Feb 07
Jumong has just started here in the Philippines, and I think this series is also a good one. It was told to be the number one koreanovela last year -2006. And it has a very good feedback here from the viewers, though I never get to watch any of it, my family do watch them all the time and that's were I thought that it might really be a good koreanovela!;)