america was going to the moon?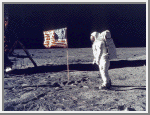 Germany
February 21, 2007 3:29am CST
last night i saw a film about the moon landing. the directors of the film suggested that the americans doesn´t land on the moon. it was very interesting to see how they confuted the arguments they bring out. what do you think?
2 responses

• Latvia
21 Feb 07
That's a difficult question. The same thing I can ask about Soviet - Yuri Gagarin were the first man in space. That happened 40+ years ago and we are just commoners, we don`t have access to top secret files. There are lot of websites in the internet that claims that this moon thing is a fake. Like those proofs that flag can`t wave on Moon because there's no athmosphere. But who knows. I have few arguments about this. Those space and moon (and now there are discussions about Mars missions) missions were part of USA and Soviet race. If the first space missions would happen nowadays, it would be harder to believe, because Hollywood can make wonders. Yuri Gagarin is my childhood hereo, because I wanted to believe that there are brave people who can do everything. And yes, that made me to believe in myself, that a single man can fly towards the sky and even in the space. If I were rich, I would sing up for a space tourist program, I would train hard to see space with my own eyes. (and perhaps the moon or mars)

• Germany
21 Feb 07
Saying that we didn't go to the Moon does a great dis-service to science and to all the people who were involved. What we should be do is to celebrate the Moon missions, and be proud of the fact that we achieved the triumph of having humans walk on the surface of another world.

• Latvia
21 Feb 07
I don`t say that the moon mision was a fake. But also, I don`t say that I`m totaly sure that the mission hapened. I`m not sure but of course I hope that Armstrong did it. That's the most positive aspect of 20. century and proves that science is still there for good reasons, not only for weapons and war.

•
22 Jul 07
Ugh, it wasn't one of those Bart Sibrel films, was it? That guy is completely full of it. It's ridiculous that people even doubt we went to the Moon. Lots of people without any scientific background like to claim that Project Apollo was nothing more than some kind of government consipiracy or whatnot. BadAstronomy.com refutes all of the "Moon Hoax" arguments that people like Bart Sibrel have been spewing, as well as other misconceptions.