ARE you in favor of FORCED marriage?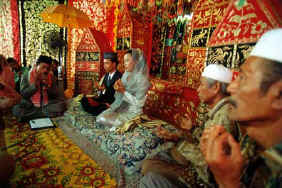 Philippines
February 21, 2007 11:45pm CST
many of our parents chose a partner for you,they choose the one who they think is best for you without considering love or your own choice..are you in favor of this?what would you do if ever you are being forced by your parents to marry someone whom you don't love?
6 responses

• Philippines
22 Feb 07
well, i have encountered a lot of stories. one is from a friend's teacher, she said her parents forced her to marry this guy because of business. and they're chinese as well. and now, this other friend of mine is in the same situation. her father, the one who insisted, said the guy is RIGHT for her because her dad knows the guy. i mean, it's pathetic right? what's the use of our freewill if our parents will be the one to choose the guy/girl for us. i thought, fix/arrange marriage is centuries ago but it still exist. totally not in favor.


• Philippines
22 Feb 07
Forced marriage? No way. I'm the one who has to live with the person the rest of my life. I should at least be the one to make the choice.

• India
22 Feb 07
Is a good point to think.I would like to get marreid only with person whom i love and she also loves me,But if my parents are forcing me to get marreid with their choice i will do that also.. Becouse i am the only son of my parents and i will try to do all the things they want me to do...

• Pakistan
22 Feb 07
No i am against it.if my parents forced me to marry with someone that i never met and love i daffinatly run away.i Bleve in love and arrange.

• Romania
22 Feb 07
no i'm not!!! if i would be forced to marry someone that i don't love i would definitely run away from it...the world is big and as long as you are are young you can start over and over again...and it would be a pity for the parents to loose you like that, wouldn't it? cheers