what is your all-time favorite board game?


Philippines
February 22, 2007 2:11am CST
remember the time when it is raining outside,and the only thing you can playwasboard games? my favorite is scrabble and monopoly.my family used to play these and it is our way to be together,having fun when we feel lazy outside and we just want to bond.do you still play these games despite of playstations,internet and all those gadgets around?
8 responses

• United States
22 Feb 07
I have lots of favorites and i just love playing board games. It is an activity that my whole family enjoys, and it is great quality time. We play Clue, Monopoly, Uno, SkipBo, and some that are new to us and not traditional favorites. My ultimate favorite is Life. We have so much fun playing that because we get crazy and kind of create personalities for our people. Before we actaully start playing, we give our people names and then make up a simple background. Then trhoughout the game we stay in character. It is so much fun and it really helps build my daughter's creativity. We really like to go out and buy unknown games to try out. We are not too picky, as long as at least 4 people can play it and it is family friendly we will give it a try.

• Philippines
22 Feb 07
how old is your daughter when she started playing with board games?i want my daughter to learn how toplay board games. like board games better than video games,it enhances thinking skills.

• United States
22 Feb 07
My daughter is just about to turn 9, but we started playing board games with her when she was about 4. We took our time to teach her how to play and started with easy games like Life. When she was just starting out she just spun and moved, but as she got older she started doing more. Now she can be the banker if she wanted. Board games are a great way to teach a child. There are so many skill that a child can learn without realizing they are learning. Board games help with stategy, mathematics, thinking skills, creativity, and so much more. I don't think it is really ever too young to start. It just takes patience but the benefits are well worth it.

• Philippines
23 Feb 07
i haven'theard of life board game ,i'll look for it when i go to the mall,it sounds interesting.ihope my daughter will find it enjoying and interesting as much as i do!

• Philippines
27 Feb 07
I love playing boardgames! My favorites are: 1) Millionaire's Game (much like Monopoly) 2) Snakes and Ladder (loved it as a child) 3) Chess (all kinds of chess) 4) Scrabble and 5) Mad I seldom play anymore, as there's usually no one to play with here.

• Philippines
27 Feb 07
yeah,we have so many competitions:we already have scrabble and chess online not to mention sms texting.but it is more exciting when we have this board game and actually playing it with friends.


• Philippines
23 Feb 07
seems to me, thetop board games ever played with is monopoly,lol!who wouldn'tlike it right?i appreciate you answering this discussion.

• United States
22 Feb 07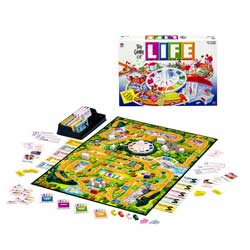 Oh I love to play board games. I have tons of them and usually no one to play them with..lol I used to love clue and monopoly. I really liked The Game of Life when I was really young. I would go to my fathers for the weekend or during the summer and my stepbrothers had The Game of Life. We would play all day when it was raining or cold. Oh I just loved that game.

• Philippines
23 Feb 07
yes,i do to.bringsback my childhood memories whenever i talk about board games.it's fun especiallywhen you have your friends play with you.i like to teach mykids how toplay some board games rather than playingvideo games.

• Malaysia
22 Feb 07
My all time favourites would definitely be Monopoly, Mad and Sahibba. Mad is just the opposite of Monopoly. We are supposed to loose our money..!! Isn't that just 'mad'? Hahaha..That's why i'm good at it.. Anyway, despite all the gadgets that we have nowadays, nothing can beat the excitement of playing these with my siblings, cousins and friends. It's totally different and cannot be compared at all with playing PS2 or online games. And yes, i still play them once in a while..

• Philippines
22 Feb 07
yeah i remember how cool mad is!we had so much fun with thatgame, i wonder if there is still a board game like that,haven'tseen them,i am pretty sure my kids would loveit!

• Philippines
22 Feb 07
I love Monopoly! I haven't played board games in a long long while though. Maybe I'll teach my kid/s so I'll have someone to play with.

• Philippines
22 Feb 07
it was fun playing with monopoly. i look forward to playing with my kids someday,theyarestill toddlers.